[Musikmesse] Pioneer DJM-350
The Pioneer DJM-350 DJ Mixers has 2 channels, with features that can also be found on Pioneer Club Standard products like the 4 Effects, Looping and Rekordbox compatibility.
One of the new features of the DJM-350 is the option to record his live set on a USB device without the need of extra kit or cables. Plug in a USB memory device and start recording your performance in high quality uncompressed WAV audio.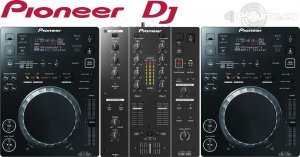 Together in a setup with the new CDJ-350
The equalizers you have on each channel are identical to those of the DJM-400 offering you Isolator kills (infinite equalizers) for each frequency. All A/D and D/A conversions are done with the shortest circuitry possible maintaining the sound quality as much as possible. The DJM-350 has a high performance CPU that minimized the noise.
Specifications:
A/D, D/A Converters 24 bits
Frequency Response 20Hz ~ 20kHz
Signal to Noise Ratio line 97 dB
Power Supply AC 220-240V, 50/60Hz
Dimensions 218 x 301.1 x 106.6 ( WxDxH )
Mic 1 x(Phone Jack 6.3mm)
Fader start 2 x (mono mini JACK)
Master Out 2 x (RCA) +2 dBu / 600 Ohm
Headphone Monitor Out 1 x (Jack 6.3mm) +8.5 dBu / 32 Ohm
Low Frequency  infinite ~ +6 dB @ 70Hz
Mid frequency infinite ~ +6 dB @ 1kHz
High Frequency infinite ~ +6 dB @ 13kHz
Low Frequency  -12 ~ +6 dB @ 100Hz
High Frequency -12 ~ +6 dB @ 10kHz
See all Musikmesse 2010 news items »
Viewers of this article also read...