Two years after their comeback, Novation decided to strike a new blow with the MiniNova — a small, blue synth bomb based on the UltraNova. When mini means maxi...
2012 seems to be the year of the mini-synths: MiniBrute, Minitaur, MiniNova. Although these products share the same prefix, each manufacturer has its own "mini" approach for technology and packaging: pure analog technology with standard, 2-octave keyboard (Arturia), small analog module with presets (Moog), and digital synth with compact, 3-octave keyboard (Novation). However, all manufacturers are after the same goal: they want to seduce as many musicians and virtual instrument users as possible with products offering a lot of technology in a very compact housing that also allows for live performances. After a quite successful comeback two years ago with the great UltraNova, proud heir of the 1998 Supernova, Novation has now decided to introduce a mini product. But is it really that "mini"?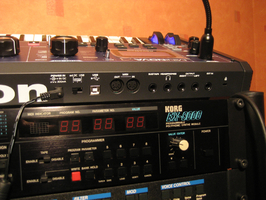 First of all, the MiniNova is a nice instrument to twiddle with thanks to its real-time controls. But there is more: it provides you with the UltraNova sound engine, and both synths are fully compatible. In short, you get a powerful polyphonic synth with 18 voices max. When it comes to memory, you get 384 memory locations for programs, including 256 factory presets. The factory sounds are pretty good and they show the full range of sound landscapes available with an engine that uses analog modeling, waveshaping and wavetables. The sound is definitely modern with very acid basses, ultrasaw-enhanced stabs, and overdriven leads. But the engine is not limited to this typical 21st century sound, we were also able to create dark pads, FM pianos, round basses, vintage-type leads, and PPG Wave-like wavetables from the last century.
We like specially the versatility of the oscillator section (far ahead from its competitors) that opens wide sound landscapes, the different filter combinations and the incredible modulation possibilities. There is no aliasing, envelopes are brilliant, LFOs can be synced, effects sound good, arpeggios are dynamic, and you gent plenty of real-time controls. The vocoder is not just a toy to create robotic sounding vocals. Although it's not easy to manage, the new VocalTune adds something original to vocals (it's an effect rather than a correction tool) but it forces you to limit plosive sounds first. And as soon as you start to realize the huge power and sound quality of the product you also start to understand at what price it all is: monotimbrality.
Bass 24db

00:23

Bass acid

00:31

Bass anim1

00:26

Bass anim2

01:07

Bass anim3

01:23

Bass cool

00:33

Bass phatt

00:48

Bass talk

00:26

Bass Taurus

00:38

Bass TB

00:46

Arp animate

00:42

Lead ARPish

01:03

Lead Moogish

00:44

Lead sq arp

00:45

LFO mod

00:31

Marimba arpchords

00:24

Pad CSish

00:20

Pad darkish

00:46

Pad evolvish

00:38

Pad mellowish

00:46

Pad rosinish

00:18

Pianelec

00:42

Tcheurtche

00:22

Vibes arpchords

01:15

Vocoders

01:36

Vocaltune

00:27
Integration
Although the MiniNova is primarily a lone ranger, it doesn't mind company. First of all, it sends MIDI CC via its controls and it also receives MIDI CC. In USB mode, you can connect it to a PC/Mac after having installed the dedicated driver that also updates the firmware. But watch out, it only supports Windows 7 & 8 and Mac OS 10.7 & 10.8. We updated from version 989 to 1004 to get rid of a lot of bugs and provide it more reliability. After registering on the manufacturer's website you'll get a free software suite including Ableton Live Lite, BassStation (VA synth), Loopmasters samples and a dedicated editor (VST/AU/RTAS plug-in). We didn't try the software suite, but we downloaded and installed the editor and all four soundpacks developed for the UltraNova by some sound design masters. Altogether, you get about 100 sounds covering over 40 years of sound synthesis, ranging from vintage emulation to modern textures. However, and it's not surprising, the MiniNova is not as open as the UltraNova: it features no audio over USB nor automap control surface mode.
Conclusion
Before the review, we had our prejudices regarding the size of the mini-keys and the new version of the sound engine. But as we unpacked the unit, the first impression was excellent and using the device was a real delight… The user interface, the sound quality, the versatility and the power are really surprising considering its very compact size and quite affordable price. It certainly isn't the ideal synth to play Rachmaninov or Herbie Hancock. But if you're looking for a compact, handy and powerful synth to play in the studio or onstage and electronic sounds are your thing — the MiniNova is an excellent solution.