Today we continue with the top lists of 2017 and the time has come to present the community's favorite analog synths!
Similarly to what we did with DAWs, electric guitars and basses, the question we asked our French AF community was: Which is you favorite analog synth?
Here are the results: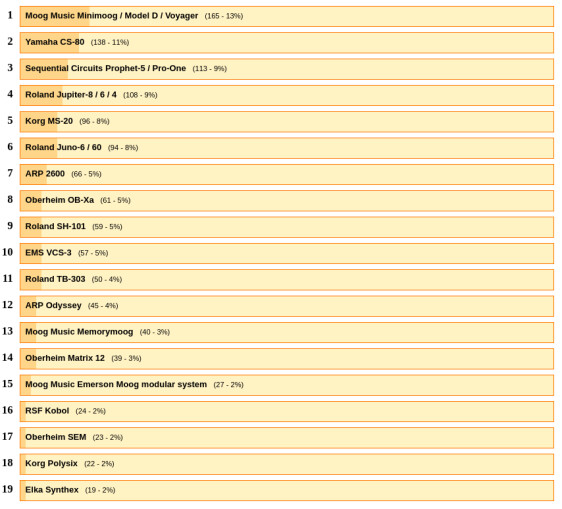 The first place goes to the legendary Robert Moog and his no less legendary Minimoog, Model D and Voyager synths. The first one, sold between 1970 and 1981, is certainly the most mythical of them all. But in 2002, Robert Moog decided to revamp it and introduced the Minimoog Voyager. And in May 2016, during the Moogfest, Moog announced the relaunch of of his famous Model D as a limited series. The Minimoog was conceived with pop/rock musicians in mind, with a more compact design and without patch cables to make it easier to use live, for instance. Among its most famous users are Keith Emerson (ELP), David Borden and Ralf Hutter (Kraftwerk).
Japanese giant Yamaha landed the second post with its famous CS-80, a polyphonic synth (8 voices) which was introduced in 1976. It features a velocity sensitive keyboard with aftertouch and also has a controller to make polyphonic glissandi. The sound of the CS-80 will always be linked to Blade Runner and Vangelis, composer of the OST. Some users complained about its weight (200 llbs = 91 kg!) and its annoying tendency to not stay in tune. Yamaha stopped its production in 1980. Among the most famous musicians who used this synth are Michael Jackson (Thriller), Jean-Michel Jarre, Brian Eno, Stevie Wonder, David Bowie, and many more…
The bronze medal goes to Sequential Circuits and its cult synth Prophet 5. It was introduced at the NAMM Show 1978 and was quickly celebrated due to its polyphony, memories and the synthesis power of the PolyMod. Its wooden chassis made it easily recognizable and its price made it much more affordable than its direct competitors, the Polymoog and the CS-80. It would become a huge success and, despite some reliability issues, it would face no real competition until much later on. Well-known artists who have used the Prophet 5 include A-ha, Duran Duran, ABBA, Talking Heads, Peter Gabriel, Eurythmics, Pet Shop Boys…
P.S: Merry Christmas to those of you who celebrate it!