Digidesign surprised the world last year when they brought out a guitar amp simulator for Pro Tools called Eleven. They have now launched Eleven in rack format for applications in the studio and on stage. Let's take a look at Digidesign's youngest child...

Guitar amp simulations have already won their place in the hearts of guitar players years ago for several reasons: they give you a big sound without having to disturb the neighborhood, they save space and provide all the effects and amps you ever dreamed of. These advantages are decisive both in the studio and on stage. But most guitar players get very sentimental when it comes to their gear and it can be hard for them to set their favorite amp aside. The only reason they would do that is because of the sound–with capital S–, which is the holy grail for any electric guitar player. Amp simulations sound better and better every time with more sophisticated algorithms and convolution technology that faithfully recreate speakers and mics.

Convolution technology started to make its way among hardware speaker simulators like the Two Notes Torpedo, but also among software tools like the latest Guitar Rig version, Revalver and Digidesign's Eleven. In fact, Eleven is basically a plugin for Pro Tools developed to compete with the leading products on the market; but it was hard to set it apart from its competitors, in spite of its good sound.
Thus, Digidesign decided to put its plugin into a hardware rack making it a convenient tool for studio and live guitar players. How did they do? The answer is here…
Hardware Amp Simulation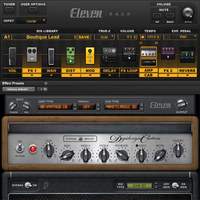 Eleven Rack is a two-in-one product: it's a fully standalone amp and effects simulator (it doesn't require to be connected to a computer), as well as a digital audio interface compatible with Digidesign's sequencer Pro Tools. Let's start from the beginning, the amps simulations.
Eleven Rack offers few surprises in this regard, it includes the same amp simulations as the software version with the addition of some effects and interesting features…
Once unpacked, you'll discover a nice looking 2U orange/black rack piece. The front panel has an aluminum border and plastic buttons and knobs. It looks nice and serious; time will tell if the knobs can withstand the assaults of a guitar player. The front panel also has a large and easily readable backlit display surrounded by switches and knobs, whose function depends on what the display currently shows. In normal mode, the "Scroll" encoder allows you to browse among the different presets (about 100) and the "SW1" switch allows you to select the different display types, while the knobs under the display are assigned to the different amp settings. The knobs are not motorized, but they turn on orange when close to the saved value and red otherwise. A "save" button allows you to store your settings and an "edit/back" button gives you some insight on the unit's heart.

Once you press the latter, the whole effect, amp and speaker chain is displayed. The "scroll" encoder allows you to toggle effects, but you can still access every effect directly via a dedicated button. By depressing it briefly you activate the effect; if you keep it pressed you access the effect's parameters. The "Dist" section includes three distortion pedals: Tri Knob Fuzz (Big Muff style), Green JRC Overdrive (Tube Screamer) and Black Op Distortion (Pro Co Rat). The "Mod" section includes all sorts of modulation effects: flanger, chorus/vibrato (Boss
CE-1
), vibe phaser (Univox Uni-Vibe), Roto Speaker (Leslie), and Orange Phaser (MXR Phase 90). The "Delay" section provides a Tape Echo (based on the
Maestro Echoplex
EP-3) and a BBD Delay (Electro Harmonix
Memory Man
) while the "Rev" section offers a spring reverb (like the one on vintage Fender amps) and a digital reverb with 25 algorithms. The "FX Loop" button allows you to activate/deactivate the external effect loop. The "FX1" and "FX2" buttons provide two additional processors: a compressor based on the
Ross Compressor
and a 5-band graphic EQ. But FX1 and FX2 can also be used to insert any of the effects listed above. You can really experiment with sounds here, considering that it is possible to insert effects anywhere in the signal path. Add a volume and two wah pedals (one Vox and one Cry Baby), a Tap Tempo button (also used by the tuner) and you get a very comprehensive and versatile effects section. The user interface is very functional and it allows you to easily browse among the parameters of the different effects.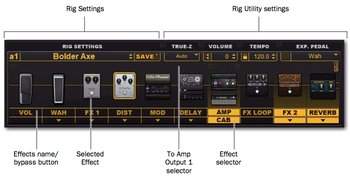 The choice of amps and speakers is also high-quality. It includes four Fender amps (Deluxe, Bassmann, Deluxe Reverb, and Twin Reverb), a
Vox AC30
, two Marshall amps (Plexi 1959 and JCM800), two Mesa Boogie amps (
Mark IIc+
and Dual Rectifier), a Soldano SLO-100, and two amps made by Digidesign (a customized JCM800 and a Fender Deluxe). This selection of renowned amps ought to satisfy most guitar players. True, it would've been nice to have an Orange, a Hiwatt or a Jazz Chorus, but let's not get carried away, the basic essentials are provided. Except for the Bassman, there is no amp or effect dedicated to bass players: Eleven was conceived for guitar. Maybe a future update will eventually include features for four-string players… To match the amplifiers, Eleven Rack provides seven speaker cabinets ranging from 1×12 Fender to 4×12 Greenback. Eleven Rack has an option to automatically match the selected amp to a speaker. You also get eight mics with two positions each: on axis or off axis. The mics include two Shure (
SM57
and
SM7
), two Sennheiser (409 and 421), two Neuman (
U67
and U87), one AKG C414, and a Royer 121 with ribbon transducer. We miss the possibility to use two mics at the same time, and we would also like to have more mic positions, to move them away from the speakers, for example. But such features are certainly very difficult to implement with convolution technology.
To summarize, the quality is very good but the offer isn't fully comprehensive. The advantage is that most guitar players will be able to cope with it. It's always better to have a few good possibilities than lots of crappy ones.
Now, let's take a look at the digital audio interface.
Digital Audio Interface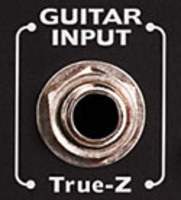 The interface can be connected to the computer via a USB2 port and it provides numerous inputs and outputs. Let's start with the guitar input called "True-Z". The secret behind this strange name is its interesting dynamic impedance technology. The interface can actually manage several impedances, which you can adjust depending on the amp or the effect pedal connected to your guitar. The goal is to recreate the exact playing feel of the original gear. You can use the True-Z function in auto or manual mode; it's up to you to experiment with them. This quite unique and interesting function is a real asset of the Eleven Rack. The interface has a mic input on XLR and 48V phantom power for condenser mics, as well as a gain control and a –20dB pad for more flexibility.
It also features a comprehensive set of outputs: two "to amp" outputs to connect it directly to your guitar amp. The first one is on the front panel and the second one–for stereo setups–is on the rear panel. A very useful feature allows you to choose where the "to amp" output is to be inserted in the signal path (pre amp/speaker simulation, for example). You will also find a headphones output on the front panel with a Volume knob that controls the phones and the main outputs' level. Even though the volume of the phones output can be offset in one of the menus, a dedicated rotary control would have been much more convenient. Bummer!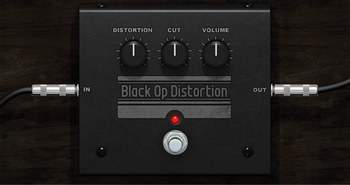 On the rear panel there are numerous connections: a stereo FX loop on 1/4" TRS jacks with FX return level selector for effect pedals or effect racks; the main outputs on XLR connectors, which include a ground lift switch to cancel eventual ground loops; two line inputs on 1/4" jacks (-10dBV or +4dBu); a MIDI input and a MIDI output on 5-pin DIN connectors; and a 1/4" input jack for an expression pedal or a footswitch. On the digital realm you have AES/EBU in and out on XLR, S/PDIF in and out on RCA connectors and, of course, the mandatory USB port.
Integration with Pro Tools

The installation is very easy with the
Pro Tools 8
LE DVD included. Start the sequencer and the Eleven Rack will be automatically recognized as a standard digital audio interface. You can set the latency by changing the buffer size, select inputs and outputs, etc. However, you will quickly notice that Eleven Rack is not just any interface: a dedicated window allows you to control all its parameters directly from Pro Tools. This is a huge advantage, even though settings are very easy to make directly on the hardware, the graphic interface coupled with the computer's keyboard and mouse add a great deal of comfort. All of Eleven's functions and parameters are there–with some nice graphics!

Good, it's very practical and nice, but what can I do once I plug my guitar and open Pro Tools? You can obviously record Eleven's output signal, but you can also record the direct signal (without processing) of your electric guitar. What for? Mainly for reamping, which consist in recording the clean signal of your guitar and processing it with Eleven Rack later during the mix. This nicely compensates for the lack of the Eleven plugin. Digidesign developers were very clever when they decided to give us the possibility to embed Eleven Rack's settings in a Pro Tools audio track. This simple but shrewd idea makes reamping a breeze. Hats off!
Now, let's play some music!
Sound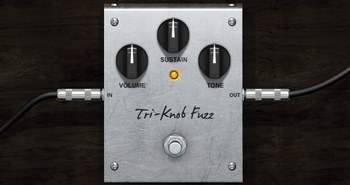 Digidesign went with modeling for all amp and stompbox models and convolution for all speaker and mic simulations. That's why Eleven Rack provides all the settings from the original amps but very few parameters for the speakers and mics. Mics have only two positions available (on axis and off axis) and it is not possible to mix several of them or move them away from the speakers. On the other hand, eight mics and seven speaker cabinets do provide enough sound variations.
As soon as you connect your guitar–we used a Gibson Les Paul–you'll enjoy a good playing feel and instant pleasure. It sounds. No need to fool around with dozens of parameters! The simulations capture all attack variations and playing nuances that are so important for guitar players. Although somewhat raw, the guitar sound can be easily used within a full mix. That's an important point for guitar players who don't have extensive mixing experience but want to produce good-sounding demos. The number of amp models is not impressive but none of them disappointed us. They are all faithful to the original amps. Both of Digidesign's amp models sound alright but they don't provide anything different from the real amps' simulations. The speakers and mics sound very good (viva convolution!) and allow you to change radically the sound character of your guitar. Every user will have to decide which speaker/mic combination he prefers. Just let yourself go, it is impossible to make mistakes (out of phase mics and the like). Almost every effect is based on prestigious hardware gear and they all sound very authentic, none of them failed our test.
Now, it's time to listen to sound samples, which certainly say more than words.
Amps:
tweed lux

00:26

tweed bass

00:24

lux normal

00:24

black duo

00:29

ac30

00:23

plexi

00:18

lead 800

00:16

soldano

00:20

M-2 Lead

00:24

rectifier

00:17

DC vintage

00:19

DC Modern

00:13
Effects:
chorus

00:18

phaser

00:26

vibe

00:24

prorat

00:08

tap echo

00:24

compresseur

00:30

fuzz

00:17

BBD Delay

00:14
We also tested the mic preamp using an affordable large diaphragm condenser mic (SE Electronics X1) and a Takamine EG-10 acoustic guitar. We had to turn the gain control three quarters of the way to obtain a decent level. The preamp doesn't make any miracles but it is good enough to produce decent demos. Here's the sound sample:
Conclusion

Digidesign tackles the guitar market with an interesting product for both studio and stage applications. It provides les
s amp
s and effects than Guitar Rig or
Pod X3 Pro
but the sound quality is very good – convolution certainly plays a key role in that. Eleven Rack is very versatile thanks to its numerous inputs, outputs and routing possibilities, and it can be used for many applications, especially reamping. The True-Z input is a real treat. The
Pro Tools 8
LE bundle with its plentiful effects and virtual instruments adds a lot of value to Eleven Rack. At about $900 ($200 more than the
Pod X3 Pro
with its numerous modelings), it seems to be a bit expensive at first sight, but the bundle is very interesting and Digidesign took a lot of care with the sound quality, which is almost impeccable. We only miss a dedicated volume control for the phones output. Nothing is perfect!
Nice design
Simulation of famous amps and effects
Convolution technology for speakers and mics
Overall sound quality
Versatility
Possibility to make reamping
Number of inputs and outputs
True-Z guitar input
No need for a computer on stage
Comprehensive digital audio interface
Mic input with phantom power
Sold with Pro Tools 8 LE and its plugins
Eleven's GUI in Pro Tools
No Eleven plugin version
GUI only available within Pro Tools
It lacks some amps and effects
Only two mic positions
Plastic knobs
No independent phones volume control