Hot news
Catalinbread introduces Adineko
Catalinbread has released the Adineko Oil Can Delay, a pedal based on vintage echo/reverb/vibrato units.
Adineko is announced as a faithful recreation of the sound and experience of old school oil-can echo/reverb/vibrato units - except that it doesn't need to be refilled with some sort of mysterious oil in order to function properly.
The sound of such original units is said to be "fascinating, bright, but dark sounding [...] with a vibrato modulation that lined up with the echo time and a repeat quality", but in the same time with a foggy, mysterious twist in sound. Since the original's sound varied much depending on the oil's thickness, this parameter was emulated through a "Viscosity" knob.
Handbuilt in Portland, OR, the Adineko is available for $199.99 (free shipping within the USA). More details available at www.catalinbread.com.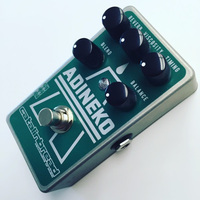 Viewers of this article also read...