Seymour Duncan Mark Holcomb Alpha & Omega pickups
The Seymour Duncan Custom Shop and Periphery guitar player Mark Holcomb have designed a pickup set for 6-string metal guitars.
The new Seymour Duncan Mark Holcomb Signature Alpha (neck) and Omega (bridge) humbucking pickups are described as precise and versatile, while offering a nice level of output. The bridge mode focuses on the mid and low-end, with a percussive, aggressive, cutting and bright sound.
The Alpha combines, according to Seymour Duncan, the quality of both neck and bridge pickups ; it can deliver a high output and offers a great response to the string attack.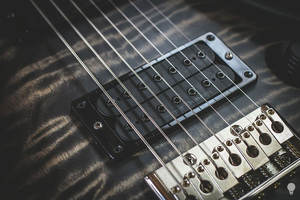 Both new humbuckers are available for 6-string guitars only and are signed by Mark Holcomb. They are available for purchase for $325 per set and ship with a USB drive featuring the Juggernaut: Alpha and Juggernaut Omega, and Holcomb's video, as well as collectible picks, a sticker and more.
More info at customshop.seymourduncan.com.
Viewers of this article also read...