An interview with producer/engineer Jesse Cannon (Animal Collective, The Cure, The Misfits, Man Overboard) where he discusses mixing, mastering and his upcoming free online seminar.
Jesse Cannon is a busy guy. The Union City, New Jersey-based producer/engineer, who has worked with bands such as Animal Collective, The Cure, The Misfits, Man Overboard, Transit, and the Mensingers, among many others, spends his mornings mastering at his studio — Cannon Found Soundation Recording Studios — and his afternoons producing or mixing, and works with clients both in the rock and EDM worlds.
Cannon, who has a book out called Get More Fans, a Creative Guide to the Music Business, is also hosting a free online seminar through Creativelive.com from February 12–14 called "The Fundamentals of Mixing Rock and EDM." (You can also view the contents of the seminar after its over, but you'll have to pay for access.)
Audiofanzine recently spoke with Cannon about his work, techniques, and the seminar.
You previously did a mastering seminar.
Two months ago I did a class on DIY mastering. For years, I worked for Alan Douches at Westside Music. I really respect the mastering process, and I would always say, I've got to send [my projects] to Alan, and I would even pay money out of my pocket. But as budgets have gotten cut and wait times have gotten cut because of the urgency of the Internet, I've been forced to master stuff over time. Now it's funny, a lot of the records I've done, I'm the mastering engineer on that record as well as the mixing engineer. And other people started asking me to master and kind of reluctantly, my "morning job" as I like to call it, is mastering. Before the band gets in for me to start producing, I'm up for three hours mastering every day now.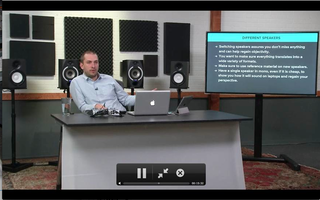 Did you have to do any additional sound treatment to your studio, beyond what you did for mixing, in order to master there?
I have a few floating clouds, and have done some dispersion. In my live room I've done tons. I take the philosophy that you should do one little thing every day, and see how it works, and just keep working it until your room feels good to you. And I did that for about six months, and now it feels really great in here.
So now, you don't have to go check the song on different speakers somewhere else later?
Nine out of ten things I work on, I'm very confident. Every once in a while, I check it on the headphones on the walk to get a pizza slice.
What do think are the biggest mistakes people make when they try to do their own mastering?
I think there's a big thing with what is the "taste" of volume. I think we're getting to where the loudness war thing isn't the most imperative thing and everybody started to say, "let's do a reasonable volume instead, " while still putting some loudness maximization on it. I don't think anyone wants their record to sound like an early '90s, low-budget major-label release, but I think it's really that thing of "What is the tasteful mark here?" And you know it is that thing. It's the same thing as getting another person to mix it. Sometimes you just lose perspective. I've had to say on a couple of records, "you need someone to mix this, you need someone to master this, because we've spent 45 days tracking this record and I just don't know anymore."
As someone who has dabbled in trying to master my own projects, for budget reasons and whatever, I think the EQing part is probably the most complex. If you're not absolutely confident of your studio's acoustics and your monitors, you're in trouble.
You have to trust your emotions while you're A/Bing to other records you like, and that you think are in the vein of what you're working on. I've really gotten into this plug in from Sample Magic called Magic A/B [designed to make A/Bing easier].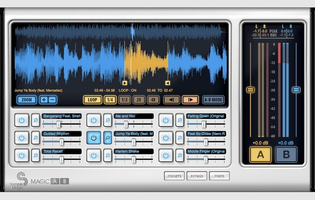 I just load that thing up and keep hitting A/B and adjusting my EQ curve until it feels right and sounds good.
What do you think of software like iZotope Ozone and other mastering software suites which have presets that you can dial in and everything sounds pretty good through them..
I think they're a great learning place. One of the things I discussed in the mastering seminar is that it's great to hit presets and then when you go, "Hey that one sounds good." Investigate why the knobs are positioned and learn why
What mastering plug-ins do you use?
I use Massenburg EQ, and the Waves Multiband Limiter, which everybody loves. I use a couple of distortions, I use Fab Filter Saturn distortion. I use Crane Song Phoenix. I also use Flux Alchemist and Flux Syrah.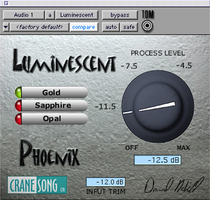 Talk about the online mixing seminar that starts February 12.
I'm going to try to explain all the things that you're doing wrong or didn't realize you could do, so you have a foundation of knowing how to fix the horrible things that come your way as a mixing engineer, whether it's that Dubstep bass wobble that has too much wobble on it, on down to just a guitar that was recorded with way too much gain in POD Farm. How you breath life and fix things. And the theories about how you get a good mix, and the best practices.
How long is the seminar?
On the East Coast, we go from 12–7PM each day, and it's 6 hours each day, with a one-hour break in between, for three days. And the first day, called "You're doing it wrong, " The idea that you're probably not thinking this through, here's a bunch of concepts and little details, that you can be doing. And the second day is going to focus on rock and the third day on EDM. I do both genres quite a bit. I also want to focus on what you can be learning from the other one. I think there are a lot of interesting things that are happening in EDM that are carrying over for some people in rock.
From a mix techniques stand point, what is the biggest difference you find between working in rock and EDM?
I think what's really interesting in the EDM stuff, when you get to the Dubstep and Complextro stuff that's getting really popular these days is how much tight "Q'd" EQ [EQing frequencies with narrow bandwidths] is going on in those tracks right now. Whereas with rock, you can't get away with doing a 20dB cut on a frequency with the Q set at 15 on a guitar. There is this big difference with EDM, where you're getting into so much micro EQ on every synth these days. You do that on a guitar, –20 with the cue at 15, it's not going to work that well. But in this clinical dance environment, [you can].
What about other differences?
The other big thing that we're seeing, and I talk about this a lot. I'm 36 years old. I master for a lot of guys who are 43, and then I master for a lot of guys who are 26. When the younger guys were teenagers, Cher's "Believe in Life after Love" was on the radio, and they got used to this really Auto-Tuned, really digital, really steady really cold sound, whereas my older clients are like "It's not warm enough, distort it more, distort it more, " and my younger clients are like, "too distorted, too distorted, too distorted." So it's a funny thing learning to do that balancing act. In the rock world, we go for this warmness, but in the dance world, we're going for this clinical, clinical sound.
Side-chaining is big in the EDM world. Talk about how you use it as a mix engineer.
So, typically for me, when I'm side-chaining, I'm going to side-chain the bass and the kick drum. So I'm going to put a compressor on the bass that has a key input from the kick drum, and it's going to drop the bass down 2–3 dB every time the kick drum hits. Typically for me it's a 30 ms attack and about a 5 ms release.
The idea is that the kick will sound more distinct at the points where it hits.
The kick will push the bass down so that it doesn't have to compete as much. There's a lot of bands, and I will admit that I perpetrated this — I do a lot of pop punk and the bass has gotten to be as loud as the guitar in pop punk these days. And if you want to get it up and not have to work forever on EQ, this is a great way to do it.
As a mix engineer, do you find that with so many people recording their own tracks and doing their own production, that you have do less in terms of adding effects and getting sounds. Like someone will bring in tracks and they'll be pretty much done as far as effects and the compositional side of production, and you'll be dealing more with levels and frequency and loudness and that kind of stuff.
You're exactly right, and I would add one more thing and that is taste. I have to do a lot of, "Okay, you hit 90 percent of this on the mark, but do we really need like 3000 gunshot explosions to go into the last chorus?
With most of your clients do you just send files back and forth, or do they attend the mix sessions?
Most of the favorite records I've done in the last year or two, I've sadly never met these people.
What is your DAW of choice?
I'm on Pro Tools on a Mac with an expansion chassis, HD, with a couple of Mix cards and 32GB of RAM.
Are you on Pro Tools 10?
I jumped to 10 for a second, but got scared. I will be going back to 10, but we are so crazy here all the time that it's like once something stops working you just switch back. I used to scoff at all the older engineers I'd work for, when they'd be using an older version, I'd say, "We need to use the new thing". And now I realize, we need to use thing that doesn't crash in front of the client.
Also, whatever you're most comfortable on, you work the most efficiently.
Alan Douches at Westside Music has a saying: "Pick a format and get to work." What matters is not which one you choose, but that you're good at that one and that you're able to be creative and work well.