DigiTech introduces the Luxe pedal
Little by little, DigiTech uses the algorithms of its Whammy individually into more compact and feature-reduced stompboxes.
Luxe, the latest DigiTech pedal, employs the polyphonic pitch shifting algorithm of the legendary Whammy pedal, with a -50 to +50 cents control range and a level knob.
Inside the Luxe, DigiTech used a 24-bit A/D/A converter and the sample rate is 44.1kHz.
The pedal is true bypass and powered by a 9V DC included supply.
No information regarding the release date and price of this new Luxe, which details are available at digitech.com.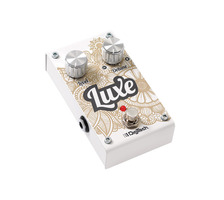 Viewers of this article also read...