Native Instruments Guitar Rig 5 Player, IK Multimedia AmpliTube Custom Shop and Line 6 Pod Farm 2.5 Free, are all free amp-modeling software suites offering both plug-in and standalone operation. Each comes with models of amps, cabinets, effects, and mics. While all are designed to entice you into the paid versions, we thought we'd compare the free offerings to see which provides the best combination of sounds and features, and what the upgrade options are. So let's jump right in.
Since they don't cost anything, there's nothing to stop you from getting all three of these products, and in fact, there are ways to use them together that we'll get into later in this story. The main point of this article, however, is to give you an overview of the strengths and weaknesses of these products before you go through the trouble of registering, downloading, installing, and, in some cases, authorizing them.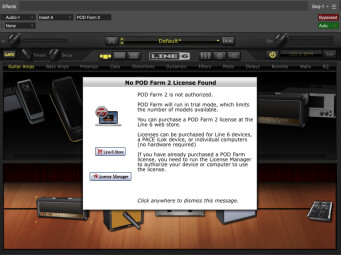 We limited our coverage to these three products because they're the only free modelers that are both cross platform, and offer collections of amps and effects. The other cross-platform, free, online amp models are not complete packages. For more on the range of free choices, see this Audiofanzine article. After we compare the various characteristics of the amps, cabs and effects in the three plug-ins, we'll offer sound examples from each product. Although these products support most major plug-in formats, Pod Farm Free doesn't support AAX for Pro Tools. So if you use Pro Tools 11 or higher, it's not an option for you.
To get any of these products, you first must go to the company's website and register a user name and password. All three use the same basic application as the paid version, but with a limited model set. Both Guitar Rig Player and AmpliTube Custom Shop require you to authorize your software with a serial number that's provided to you after you register. Pod Farm Free is a simpler process: just download and install the Pod Farm software. While it's nice not to have to authorize, the trade-off is that every time you instantiate the plug-in or open the standalone version, you get a pop up screen saying "Pod Farm is Not Authorized, You're Running in Trial Mode, " which you have to click on to get rid of. Line 6 is clearly trying to make it feel like a temporary experience on your way to buying one of its full versions of Pod Farm.
NI and IK take a different approach, letting you register the software like you would the paid version. Guitar Rig Player separates the included components in a separate window from those that are only in the full version, making it easy to focus only on what's included. If you choose to view the models from the pro version, as well, and you click on one, a pop-up screen explains that if you hit "Okay, " that particular model will go into demo mode for 30 minutes. After that, it will disable itself until you buy the full version. In Pod Farm Free and AmpliTube, you see all the available models, but the ones you can't access from the free version are grayed out.
Amp, cabinet and mic models
AmpliTube Custom Shop gives you the most sonic options in terms of amps and cabinets. Although it offers one less amp model than Pod Farm Free, it gives you many ways to custom-configure amp components, routing and miking, making it more sonically flexible. Its amp models include: American Tube Clean 1, based on a Fender Super Reverb; American Tube Clean 2, based on a Fender Deluxe Reverb; British Tube Lead, based on a Marshall JCM800; and Solid State Bass Preamp, which is an original IK model. Unlike the NI or Line 6 software, AmpliTube's amp models have three different selectable components within them: Pre Model (preamp), EQ model and Amp model (which includes tube configuration). Each amp model defaults to its own component in each of these categories, but you can mix and match them to create your own sound combination.
Matching cabinets are available for each model, and, as is also true with Pod Farm Free, you can mix and match them. Each cabinet also has a size adjustment, allowing you to alter its virtual size from 75% to 125%. When it comes to virtual mics, AmpliTube Custom Shop gives you a choice of three: Condenser 414 (based on AKG C-414), Condenser 87 (based on Neumann U87), and Dynamic 57 (based on Shure SM57). Each cabinet in your setup can have up to two mics on it, and you can move each mic to change its horizontal orientation and distance from the cabinet. IK also lets you add a stereo room mic pair from one of six different room types: Big Live Room,Venue, Studio A, Booth, Studio B, and Garage. The room mics can be adjusted for Width, Pan, and Level. You can even solo the room mics on each cabinet to adjust them.
Pod Farm Free comes with five different amp models, three are guitar amps and two are for bass. You get Blackface Lux, which is based on a Fender Deluxe Reverb; Brit J-800, a Marshall JCM800 model, I assume; and Power Amp, which is a generic power amp model, and doesn't offer much in the way of coloration. The bass amps are: Eighties, based on an Ampeg SVT; and FlipTop, based on an Ampeg B-15A. Each amp has a matching cabinet, and you can mix and match the cabinets to create your own custom combinations.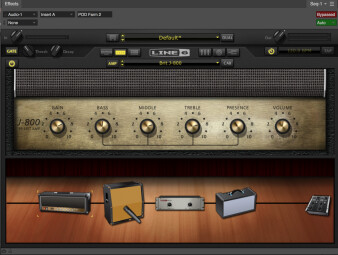 Four different virtual microphones are available for placement on the cabinets, but you can only have one at a time. The mic models includes 57 On Axis and 57 Off Axis (based on a Shure SM57), 421 Dynamic (based on a Sennheiser MD421) and 67 Condenser (based on a Neumann U67). You can't adjust mic positioning, other than choosing the Off-Axis 57 model. The bass amps offer a different set of mic models including 20 Dynamic (based on an EV RE20, 112 Dynamic (based on an AKG D112), and 47 Close or 47 Far (both based on the Neumann U47).
Guitar Rig Player (GRP) offers only a single amp model, called Jump, which is obviously based on a Marshall. Judging from its name, it was most likely modeled from a JMP-series amp. NI doesn't offer specifics on its website. Though it's the only amp model you get, it's surprisingly versatile, offering everything from clean to crunch to high-gain distortion.
You get a single matching cabinet, which can be configured in mono or stereo. The latter provides some nice wide sounds. Two mic models are provided: a condenser and what appears to be a dynamic mic. A slider lets you choose one or the other or a combination of the two. You can also dial in more room tone with another slider that ranges from Dry to Air.
Signal paths and routing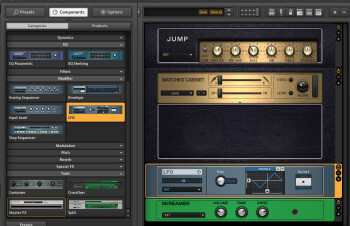 All three products give you the ability to adjust the signal path to some degree. AmpliTube Free features a dual signal path, with a variety of signal routing options. The dual signal path lets you route your input signal through two separate chains that are combined at the output, or choose from a variety of routing combinations of the basic signal path, which is a parallel setup that goes in the following order: Stomp (effects), Amp, Cab and Rack effects.
Pod Farm Free also gives you the ability to go from a single to a dual signal path. You can also change the order of many of the components by dragging and dropping. A real cool feature is the mixer module at the end of the chain, in which you can balance the levels between the two paths (which can each be mono or stereo), and pan them. A unique feature to Pod Farm Free is the ability to dial in direct signal along with the processed signal, and delay the DI feed slightly, which helps the dry signal to sound more distinct.
Guitar Rig Player handles the routing issue a little differently, by including a number of tool components that you can drop into the signal path to alter it. The Split Mix module lets you divide your mono signal into two at any point in the chain. The Crossover module also lets you split your signal, but by frequency. That means you could process one frequency range with one set of effects and another with a different one. The Container module lets you set up macro knobs that control user specified parameters on multiple modules. With the rather limited effects set you get with Guitar Rig 5 Player, these functions are not as important as if you had the full suite of effects, but still give you a lot of flexibility if you're willing to learn how to use them. Guitar Rig's excellent support of dragging and dropping when configuring a rig makes construction of custom setups easy.
Effects
All three offer a decent group of effects, but, not surprisingly, considering these are free products, none offer what could be called a comprehensive collection. They're designed to leave you wanting more.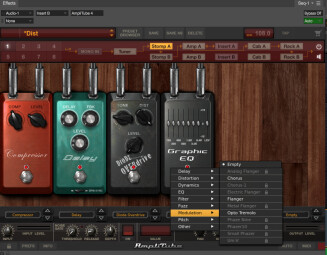 AmpliTube Free gives you a combination of stompbox and rack effects. The rack effects are at the end of the signal chain, whereas the stomps are before the amps and cabinets. Ten effects are included: Diode Overdrive (a proprietary IK effect, not a model of an existing pedal) for distortion and overdrive; a 7-band graphic EQ pedal; a Parametric EQ rack effect; a wah pedal that offers manual and auto modes; a compressor pedal that the company says is based on "a classic high-end compressor"; Opto-Trem, Flanger and Chorus pedals; and two digital delays: one stomp and one rack. If you noticed that reverb is missing, you're right. That's because IK amp models all have spring reverb built in. Unfortunately, you probably will opt for another reverb from your DAW instead of the spring reverb, which is just not sonically satisfying.
Pod Farm Free offers 15 effects, most of which are stompbox style. You get two distortion pedals, Facial Fuzz (based on the Arbiter Fuzz Face) and Screamer (based on the Ibanez Tube Screamer); an octave divider (the only one in any of the three applications) called SubOctaves; two wahs, Vetta Wah and Weeper, neither of which offer autowah functions; an LA-2A-style compressor that's great for fattening up a guitar tone and the Vetta Comp stompbox; Stereo Phaser; Opto Tremolo; a noise gate (all three programs also have noise gates built into their GUIs); two delays: Digital Delay and Analog Delay with Modulation; and two reverbs: Standard Spring, and Cavernous. The former is a superior sounding spring reverb emulation compared to the IK one, and the latter gives you one (very large) reverb algorithm. You can adjust the decay time to be shorter, so this can suffice as your digital reverb, but I'd probably use a dedicated one from my DAW in most circumstances. Finally, Pod Farm Free gives you two preamp models, American Classic, which is based on an API preamp and features Drive and Volume controls alone with four bands of EQ; and Console, which appears to be based on an SSL, although Line 6 only hints at that. In addition to being a preamp, it features 4 bands of EQ and a high-pass filter.
Guitar Rig Player has a Tube Screamer emulation, which is called "Skreamer"; Parametric EQ and Shelving EQ; Limiter, Noise Gate, Noise Reduction and Tube Compressor in its Dynamics category; a Flanger that can also be set as a chorus; Twin Delay (a stereo delay), Delay Man (delay and modulation); and Studio Reverb, a digital reverb module. Guitar Rig Player also includes something none of the others have: Modifiers. These consist of five separate modules: Analog Sequencer, Input Level, Step Sequencer, LFO and Envelope. These modules can be assigned to any parameter in another effect or amp model, and offer various, and often rhythmic ways to control them. They're useful for creating more synth-like sounds, but would be more handy if you had the full Guitar Rig 5 Pro amp-and-effects collection, rather than the few you get in the free version. Still, if you're creative, you can do some cool effects with the Modifiers.
More comparisons
From what I could tell from observing the CPU usage, all three programs draw a pretty similar amount of CPU power. Guitar Rig Free used the most, but the differences were pretty minimal. Guitar Rig Player's GUI (which is the same as the full version) gives you the option of turning off high-quality mode (which is the oversampling), if you want to save a little CPU.
All the GUIs give you input and output controls, and these are important to check periodically. I found that, especially in AmpliTube, I often was overloading the input and had to turn down the Input knob to get levels out of the red.
All three give you options for dual signal paths, and all have built-in tuners, and noise gates. However, Guitar Rig also features some extras such as a metronome, and two "Tapedecks" — one before the effects and one after. The idea is you can record DI in to the single-track Pre Tapedeck and then change amps and effects to alter the sound. You can record the processed sounds into the Post deck. The Pre Tapedeck also lets you slow down your recordings without changing the pitch for learning parts, and you can speed them up for tempo changes. Transposition (without changing speed) is also available. The two Tapedecks can even be synced together to allow for rudimentary overdubbing. While there are no recording features on AmpliTube Free's plug-in, the standalone version offers two tracks of recording and also gives you speed and pitch controls. You can upgrade to eight tracks of recording in one of the full versions of AmpliTube 4.
AmpliTube Free is the only one of the three that gives you any presets to speak of. You get forty including guitar and bass sounds. If you like working from presets, this could be an important factor. Pod Farm Free shows a full preset menu, but when you click on one that uses components that you don't have (which is most of the presets), you get a dialog box that gives you the cheerful message:"Failed To Load Tone (Dode 8000a002). Accessing a model that hasn't been added."
Guitar Rig also shows you its full set of presets, but when you click on any of them, you get a Start Demo dialog box, that tells you that if you hit "Okay" you'll get a 30 minute demo of any of the non-included components, after which they'll deactivate until you purchase the full version.
Through IK Multimedia's Custom Shop, which is a separate, standalone application that installs along with the AmpliTube Custom Shop, which is the modeling software (don't ask me, it's very confusing), you can purchase gear credits that you can then use to buy individual components or bundles of components. The advantage of this system is that you could add to your model set without spending the full cost of upgrading to AmpliTube 4 or AmpliTube 4 Deluxe. IK lets you try components for free for 72 hours each, which gives you a good opportunity to test them out, and is a much more generous way to go than NI's 30 minute demos, although you can't just click and start playing like you can in Guitar Rig 5 Player. With the IK trials, you have to select a component in the Custom Shop application, and click on the Try button. It's a little more work, but you get a lot more time to check the amp or effect out.
Sounds
Let's listen to some examples of the amps in action. The guitar examples were recorded DI on an ESP 400 Series Strat and then reamped with the various modelers. The bass example was recorded DI with a Fender P-Bass. In each group of examples, the source recording is identical. The amp and effects come from the modeling software.
The first group is based around a power rhythm guitar part.
This example features AmpliTube Custom Shop. The components include the British Tube Lead amp and matching cab with the gain full; Volume pedal, Compressor, and Diode Overdrive (gain full) stomps; Dynamic 57 and Condenser 87 mic models and D Delay and Para EQ rack effects.
This time it's going through Guitar Rig 5 Player's Jump Amp, with the gain switch on the high setting, Preamp setting on full, matching cabinet, Tube Compressor and Parametric EQ set to Presence Boost presest.
Finally, here it is through Pod Farm Free: Brit J-800 with gain about half, with matching cab and 67 Condenser mic:
I like all three, but if I had to choose, I'd take the Pod Farm Free sound, because of its higher gain.
The next group showcases clean rhythm sounds.
We'll start with Pod Farm Free this time. The patch I created features a 1964 Blackface 'Lux amp with 4×12 Brit Celest T-75s cab, and the American Classic Preamp:
Next is AmpliTube Custom Shop featuring the American Tube Clean 1 amp, 4×10 Open Vintage cab, Compressor pedal, parametric EQ rack, and Condenser 87, Condenser 414 mic models:
The third file features Guitar Rig Player with the Jump amp's gain switch on the low setting, matching cabinet, Parametric EQ, and Limiter, mic slider closer to condenser with a bit of Air dialed in:
To my ear, AmpliTube Custom Shop provided the fullest sound in this example. I like its clean tones a lot.
For the third group I wanted to showcase the sound of some of modulation and delay effects. I used delay and chorus on the AmpliTube Custom Shop and Guitar Rig 5 Player examples. The Pod Farm Free example also has delay, but I had to use a phase shifter because no chorus effect is included.
First is AmpliTube Custom Shop, with a setting featuring the American Clean 1 amp and cab, a Chorus stomp, and Digital Delay rack.
Here's the example for Guitar Rig Player, using the Jump amp and cabinet with the Gain switch on low, the Delay Man effect, the Flanger effect set to Chorus setting.
Last up this time is Pod Farm Free, using the Blackface 'Lux amp with matching cab, Analog Delay with a little bit of modulation and the aforementioned Phaser.
I like the way they all sound on this example. The AmpliTube version is fuller, while the other two are more jangly.
The final group of guitar examples feature a lead guitar part, and I dialed in a crunchy, blues lead tone on each of the amp sims.
We'll start with Pod Farm Free, with the Brit J-800 amp and matching cab and the Compressor effect.
Next is Guitar Rig Player, featuring the Jump amp with matching cab with the gain switch on low and the Master and Preamp knobs turned up high, and the Tube Compressor .
Last up is AmpliTube Custom Shop, with the American Clean 2 amp with 2×12 Closed Vintage cab, Compressor and Diode Overdrive, and Dynamic 57 mic model.
My favorite in this example was definitely Pod Farm Free.
Last up we have the bass guitar example. Since only Pod Farm Free and AmpliTube Custom Shop offer bass amps (in the free versions, Guitar Rig 5 Pro also has bass amps), there are only two in this group.
We'll start with Pod Farm Free with the Flip Top amp model with matching cab and the Compressor rack effect.
Next is AmpliTube Custom Shop. Here I used the Solid State Bass Preamp with matching 1×15 cab, Compressor and Graphic EQ pedals.
Because they're very different types of bass amp models, it's hard to compare them. What they do show is that you can get good bass amp sounds with either model.
Togetherness
If you don't mind going through the hassle of downloading, installing and authorizing, there's no reason not to get all three of these programs. Each has different strengths and weaknesses, so why not have more options? What's more, you can use the amps from one with the effects from another, because all three allow you to bypass the amp models and cabinet models. So you could use, say, an amp from Pod Farm Free with a cabinet from AmpliTube Custom Shop into the reverb (or other effects) from Guitar Rig Player, simply by putting them in consecutive insert slots in your DAW channel and bypassing the amp and cab sections you're not using. It might be a bit of a hassle to do it that way, but it would give you a larger collection of components and you still won't have spent a dime.
You can't beat the price
All three of the modelers we looked at have a lot to offer, especially considering that they're free. If you don't need a huge variety of sounds, you could get by with any of the three for your recorded guitar sounds, especially if you supplemented the effects offerings with effects from your DAW.
If you are thinking of eventually upgrading, the free versions provide a good way to check out the workflow and general vibe of the various full versions in advance of buying. As mentioned, two of the three programs let you try out models from the the full versions before you have to purchase. Pod Farm Free is at a bit of a disadvantage in this regard, because it doesn't have any kind of auditioning feature for components not included.
The quality of the modeling is top notch all around. I'd be hard pressed to say that one offers better modeling than another. If you're looking for high gain, you might opt for Pod Farm Free because of its J-800 amp model, which had by far, the most gain of any of the included models. Pod Farm Free was probably the weakest for clean tones, though, as its Fender Deluxe model breaks up a little even on low settings. If you're looking for clean sounds predominantly, I'd go with AmpliTube Custom Shop or Guitar Rig Player. The former offers a couple of Fender models that sound quite good clean, and the latter's Jump model offers pleasing clean tones in addition to its crunchy and distorted sounds.
If I had to make an overall choice between the three software packages, I'd probably opt for AmpliTube Custom Shop. It offers a pretty versatile model set, with good clean and distorted sounds, a selection of presets (which the others don't offer in their free versions) and it gives you the ability to upgrade through the purchase of individual models in the Custom Shop.
If you do feel like upgrading, the full version of AmpliTube 4 is $149, and AmpliTube 4 Deluxe, which has even more models, is $299. Similarly, Line 6 offers Pod Farm 2.5 Standard for $99, and Pod Farm Pro for $299. Guitar Rig 5 Pro is $199 (and is also included in the Komplete bundle). Pros and cons for all three software packages follow.