The Fender Machete represents a new direction for the manufacturer. It's not like they want to start to making cutlery but rather they want to enter the heavy distortion world. This strategical decision caused many reactions in the guitar world. So, with mixed feelings I leave the sandy roads and whiskey smell of Mississippi to enter the country of tattooed, long-haired musicians.
A Weapon for the Strong!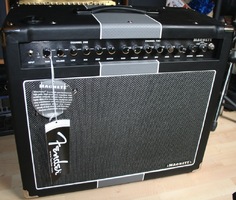 I receive the weapon under seal. It hardly fits the trunk of my car with the rear seats folded (for insiders, the JeyMobile looks a lot like the GarthMobile). I come to my place of destination and ask for help to take the cardboard box out of my car because it's twice as large as me… Right after unpacking you'll discover that the amp is much smaller than the box (big foam protections inside!) but still not lighter. The physical specs: 24.5" × 11.5" × 22" and 71 lbs. The manufacturer had mercy on us and decided to add clipable casters so we won't break our backs when transporting the amp. The two-color combo is protected by a black vinyl covering with white edging and a center stripe in the style of a roadster steering wheel. The front plate is made out of black steel and offers nice-looking, brushed-aluminum Telecaster knobs. The overall roadster look is faithful but it might not be everyone's favorite.
Swiss-Army Knife or a Classic?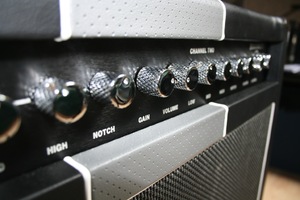 Let's have a brief tech talk. Under the hood you'll find five 7025 tubes (also called 12AX7), a pair of 6L6GC and a 12" Celestion Vintage 30 speaker that matches the roadster look perfectly. The front and rear panel are fully packed. The engine offers two separate channels with Gain, Volume, Bass, Mid, Treble, and Notch controls each. The front panel also includes three selectors: a 6dB pad (for active pickups), a channel switch and a speaker damping selector (damping is the interaction between power tubes and speaker). Finally, the amp offers one reverb for both channels. A small disappointment is that the reverb is not a tube but a digital one…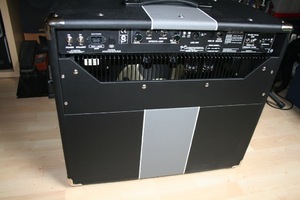 On the rear you have Power and Standby switches, an effect loop with send and return level controls, a line output on XLR connector, MIDI in, footswitch connector, and a pair of speaker outs with impedance selector, as well as a pair of PA Mute (mutes the power amp) and Cab Emul (adds the speaker emulation to the line out) mini-switches. The included footswitch provides four options for channel selection, gain boost (ch.1), FX loop, and reverb. It is equipped with two connectors: one for the amp and a second one to chain an additional Machete footswitch (can be useful on large stages). Something tells me it's time to plug my axe now.
In The Land of Dark Metal!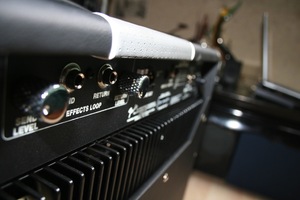 After much hesitation, I decided to take my Les Paul Studio. I also took a PG57 microphone, an ART tube preamp and my EMU USB interface along for the recordings. I started with channel 1 and the bridge pickup. EQ and volume settings are flat (12 o'clock), Gain @ 3, Notch @ max. and reverb @ 4. I immediately recognized the legendary pure and warm Fender sound. Increasing the reverb I got a Princeton-like tone and I couldn't resist the call of a romantic ballad. After the sunset, I decided to use the mysterious Notch control. I set it to 12 o'clock and immediately feel like leaving the USA. With Notch set to the minimum I'm in Oxford. This control allows you to shape the frequency-response curve so that you can either have a typical US or British tone (we already know this feature from other brands). It smoothly blends between both sounds to offer a rich sound range. Now, let's give the EQ a try. The settings are very effective and you'll need to be careful to avoid aggressive or damped sound. When it comes to loudness, the clean channel is powerful enough to play with a drummer. Increase the gain setting and you'll get a perfect crunch for aggressive rhythm parts. This channel reserves even more surprises: the gain control has an additional push-pull function to switch to Bright mode. The volume control is a gain boost (controllable with the footswitch), which can be very useful to increase the signal level and the saturation. This first channel is very well accomplished. Now let's turn to more serious things.
Les Paul cleannobright

00:10

Les Paul cleanbright

00:10

Les Paul cleannoboostgain50

00:10

Les Paul cleanboostgain50

00:10

Les Paul cleanverb

00:22

Les Paul cleanverb2

00:22

Les Paul cleangain80-nocht80

00:08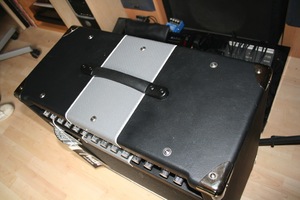 One small jump with both feet on the footswitch (to check the sturdiness at the same time!) and the amp changes its face! With gain @ 3 and Notch @ max., you get a fat crunch tone for old-school rock. But I'm impatient to hear how Fender imagines the world of metal, so I turn the gain to 12 o'clock. I end up in a hostile zone and ready to cut lianas with sharp riffs. The Notch control is very useful: high settings produce a typical US tone ideal for Slayer or a song like Cowboys from Hell. Low settings produce a typical British tone perfect for Iron Maiden. The gain reserve is more than enough to play every music style. However, watch the output level if you don't want the anti-guitarist brigades to come knocking your door down.
In order to demonstrate the operation of the Notch control, I played the same part with a flat EQ, turning just the magic knob.
cleannotch0

00:20

cleannotch50

00:19

cleannotch100

00:19

dirtynotch0

00:16

dirtynotch50

00:16

dirtynotch100

00:16
To be really sure, I grabbed my Fender Marauder with Jazzmaster neck pickup and Triplebucker bridge pickup. Let's see how the amp reacts. It sounds, cuts and bites!
I had a lot of fun playing this amp, both in clean and distortion modes. The response is dynamic and it faithfully reproduces the nuances of your playing. Although digital, the sound of the reverb is musical and smooth. My only regret is that I had to bring the amp back to AudioFanzine's editorial office…
Happy?
Fender's goal was to offer an aggressive sounding combo to the tattooed, hairy metal community and they have succeeded! The amp is sturdy, so it can be taken on stage and to the studio or stay at home. Moreover, it offers a wide range of clean sounds plus everything from crunch to heavy distortion, while the Notch control allows you to fine-tune your tone. Unfortunately, the amp's street price of around $1,900 is quite high. Quality has a price, and if you like it, you'll pay for it…