VHT introduces the EL84 adapter.
The Special 6 EL84 adapter reconfigures the Special 6's 6V6 output tube socket to accept an EL84 output tube. "Now Special 6 players can enjoy the earlier breakup, midrange complexity and top end chime" of an EL84, the company says.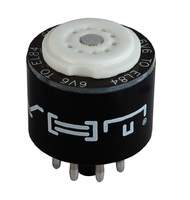 The Special 6 EL84 adapter works in other 6V6 amps as well. Check with your amp tech to be sure your amp's voltages don't exceed the maximum ratings for an EL84.
The new VHT Special 6 EL84 Adapter has a MAP of $19.49. It is available now.
For a complete list of products available from VHT, visit vhtamp.com.

Be the first to post a comment about this news item
Viewers of this article also read...