We are living in an era of miniaturization, and guitar amp manufacturers aren't an exception. Many of them already offer compact amps and now Mesa Boogie presents its second small sized (and with reduced output power) amp head. Let's see if the Californian brand still sounds as proud!
Everything is Smaller in our Lives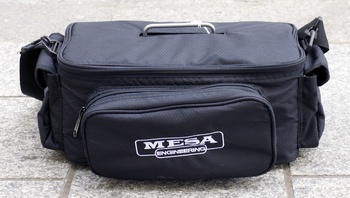 Remember the 60's? It wasn't that long ago… In the past, the size and the output power of an amp were crucial to the sound of our favorite guitar players. But things change a lot. Housing shortage, noise restrictions… It's not easy to live the rock 'n' roll way of life. Even Lemmy from Motorhead lives in a 45-squared-meter apartment… But to take the best out of the 100W power of your nice Dual Rectifier, the famous amp of the US manufacturer, you need to play on large stages… In spite of this, the Dual and Triple Rectifier series were very successful… and unfortunately they are normally used with the master control set to 2! And no amp with less output power was able to produce this typical Recto sound coming straight from California.
So, when Mesa/Boogie presented the Transatlantic some of our was hope restored. But this amp doesn't deliver the huge sound the manufacturer got us used to: a fat US tone with detailed highs and tight lows.
However, today, all fans of this typical sound can rejoice — the US manufacturer has finally presented the Mini rectifier, an all-tube amp head with switchable output power. The compact version of a Dual Rectifier. Literally.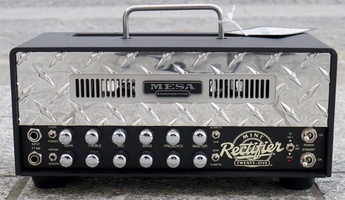 Sold in a small cover, this nice and compact amp head doesn't have anything to envy its big brothers from an aesthetic point of view. It's obvious that it's part of the same family that has been praised by most rock musicians for 10 (20?) years. Black vinyl, aluminum front plate in truck-step look, small transport handle… At first glance, everything seems to be in place.
Taking a closer look, you'll find the exact same design and settings as in the Dual and Triple Rectifiers. Besides a 1/8" instrument input and a footswitch connector, the front panel features two independent channels. Each channel offers two different voicings (Clean/Pushed and Vintage/Modern), a gain control, a three-band EQ (Treble, Mid, Bass), and presence and master controls. The Mini Rectifier includes five 12AX7 preamp tubes and two EL84 power tubes, unlike its big brothers that use EL34 or 6L6 tubes.
But the main difference is the possibility to select a different output power for each channel on the Mini. A small switch allows you to choose between 25W and 10W for each channel independently. A clever idea: the technical documentation explains that there is a real sound difference between both output power modes. The 10W mode produces a slightly more vintage and round tone than the 25W mode. The latter comes much closer to the modern Rectifier sound (it would be a mistake to think Mesa/Boogie makes amps for deaf rockers only).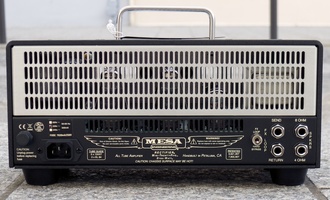 On the front panel you'll also see a couple of power and standby switches.
But it is in the rear panel where you'll find everything you need: FX loop with hard bypass (sweet!), two four and eight-ohm speaker outs, power socket. Considering the dimensions of the amp, don't expect much more. Straightforwardness and space saving are the maxims. And that's a good thing. But let's listen to what comes out of the beast…
Size Matters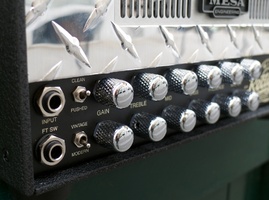 After powering on the Mini Rectifier, you'll have a nice surprise: a beautiful red glow coming from the innards of the amp emphasizes the front panel's metallic beauty. It's the small "2012-touch" added to a product range that has had almost the same look for years.
But what about the sound? Stay cool, there are no ugly surprises. The Mini Rectifier does exactly what it was conceived for: you get the Mesa Rectifier sound but not too many dBs.
Channel 1 provides you with a sound ranging from clean to heavy crunch. Like with many other amps, the gain setting distorts the signal pretty early on (from about 10 o'clock onwards, with flat EQ settings, and of course depending on the guitar), but the result is always nice and "very American", a typical Mesa tone…
Setup: PRS Standard 22 > Ch1 > Gain @ 9 o'clock – Treble & Mid @ 12 o'clock – Bass @ 2 o'clock – Presence @ 12 o'clock – Master @ 3 o'clock – 25W
PRS Mini Rectifier Ch1 Clean

00:26

PRS Mini Rectifier Ch1 Clean Gain Plus

00:44
If you already know the brand, you'll feel at home with it. The EQ and presence controls work like on all other Mesa amps. For some, this sound is very cold. For Mesa Boogie fans, the clean sound is very clear, bright and detailed. The Pushed voicing takes you immediately to the world of classic rock. With a Californian touch, of course…
Channel 2 takes you to a more nasty world. With the Vintage voicing, the distortion stays well-defined, ideal for rock players. The lows are precise, mids are slightly contoured, highs are clear — no mud here. However, do note that "Vintage" is relative at Mesa… If you are looking for a Bassman tone, pick another product!
Gain @ 12 o'clock – 25W
With the Modern voicing, you immediately get the tone that made the manufacturer famous. You might like it or not, but the Rectifier distortion is very typical and easily recognizable. Once again, no ugly surprises! Grab your skateboards and your Vans. Or tune your guitar in Drop D.
As a bonus, here are some samples played with AudioFanzine's Telecaster.
Telecaster Mini Rectifier Ch1 Clean

00:22

Telecaster Mini Rectifier Ch1 Clean Gain Plus

00:23

Telecaster Mini Rectifier Ch1 Pushed

00:22

Telecaster Mini Rectifier Ch2 Modern

00:19
And for the sake of comparison, here are two different parts played with the Mini Rectifier and my Dual Rectifier 100W (1st generation). The guitar is AudioFanzine's Les Paul — and yes, I forgot to change the tubes in my amp!
LesPaul Mini Rectifier Ch1 Clean

00:23

LesPaul Dual Rectifier Ch1 Clean

00:23

LesPaul Mini Rectifier Ch1 Clean Gain Plus

00:23

LesPaul Dual Rectifier Ch1 Clean Gain Plus

00:23

LesPaul Mini Rectifier Ch2 Modern

00:19

LesPaul Dual Rectifier Ch2 Modern

00:19
All samples above were recorded with a Torpedo VB101 using the BritStd 4×12"/SM57 combination without any processing.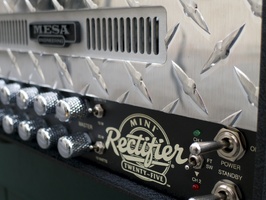 It's all a matter of taste… The typical "Mesa tone" won't please every guitar player. The sound is obviously Californian and some people find it "too modern". But it's the typical sound character of the Rectifier family and it is what made it so successful.
When it comes to sound versatility, I was surprised by the subtleness of the settings. They allow for a smooth blend between different "tone categories". Having two different voicings for each channel means many sound possibilities. If all these sound variations could be accessible via the footswitch, this would be a formidable weapon. However, we must keep in mind that the amp delivers only 25 watts.
The possibility to switch to 10W is a useful feature for people who play in very small locations… In this mode, the sound color changes a bit but I wouldn't say the tone is more vintage… It's true, the distortion is a bit less sharp, the sound is slightly warmer, however I was not able to notice an obvious difference between the two modes…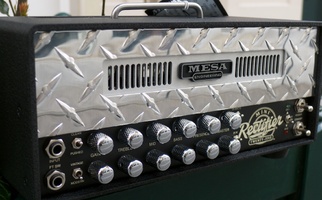 Let's go back to the comparison with the (former generation) Dual Rectifier: the knobs on the new Rectifier generations are not as convenient as the knobs on older series. Actually, my Dual Rectifier has easily readable knobs with a short peg indicating the exact setting. Several years ago, Mesa Boogie decided to change these knobs for others without peg; instead of pegs, they only have a dot mark on the edge. If you are blind as a bat (like me), it will be difficult for you to read the settings 4" away… And in spite of the nice-looking red glow in the amp, it's difficult to read the value of the settings precisely.
However, from the design standpoint this is the only drawback of this amp which is a success in every other way. From the sound to the manufacturing, from the connections to the look, you will easily forget the size of the amp, which is definitely a good point!
Conclusion
With the Mini Rectifier, Mesa succeeds in preserving the typical Rectifier soul and spirit in a compact amp with less output power. The competition is hard in this market segment and many brands already offer all-tube amps for home musicians. However, Mesa has the advantage of offering a faithful variation of its top-range products.
The other side of the coin is the price! Sold for $1,000, the Mini Rectifier isn't accessible to everybody. Add the matching 1×12" speaker cabinet for $450 and the bill turns quite high for a 25-watt amp! In spite of the high manufacturing quality, only some additional features (a third, higher output power setting, all four voicings accessible via the footswitch, etc.) would justify the price gap with competitor products that are half as expensive! So Mesa stays clearly above its competitors when it comes to price. Bummer!
However, the design and manufacturing are excellent and this new small beast keeps its promise… it rocks!