Mojotone and Alex Lifeson launch a guitar amp
Rush fans will now be able to play on a replica of Alex Lifeson's custom guitar amp, the Lerxst Omega, designed by Mojotone and the artist.
Alex Lifeson and Mojotone have partnered to designed the Lerxst Omega Signature stack. The amp head is based on a modified vintage Marshall and provides 25W or 50W. Two Clean and Dirty channels are foot switchable and share a three-band EQ. A series effect loop is also included.
The Lerxst Omega head hosts three JJ 12AX7 preamp valves as well as two JJ EL34 power tubes. The footswitch is included.
The stack also features a Lerxst Omega cabinet equipped with four 12" Celestion G12M Greenback. It can operate in mono (16 o 4 Ohms) or stereo (8 Ohms per side).
Both the amp head and the cabinet are made in the USA. The US price of the head is $2295 and $1550 for the cab.
You'll find more details on the dedicated website lerxstamps.com.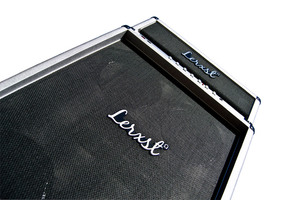 Viewers of this article also read...