It's hard to do a Janis Joplin song if your voice sounds like Madonna, or to sing Springsteen with Boy George's voice. Is there a way to get a broken voice?
For rock, hardcore ragga, P-funk or death metal, many singers dream of grainy and husky vocals that can reinforce the energy of the song; hot vocal cords like those of Bon Scott, Tom Waits, James Brown, or Beth Ditto. The problem is that some people have a naturally clear voice. Thus, a frequently asked question is: how can I get a grainy voice like Bon Scott?
The answer is simple: it's impossible! But you can always try out different things...
The best option: go to a singing teacher
Just like there is no way to change Peter Jackson into Brad Pitt with a spell, there is also no magic formula to change the timbre of your voice. And beware of questionable advice like smoking, drinking strong alcoholic drinks or screaming until your voice breaks. In the worst case scenario, such advice may only damage your vocal cords irremediably, which means you would need to undergo surgery and will not be able to sing again in your life. So be careful and do the right thing: visit a singing teacher.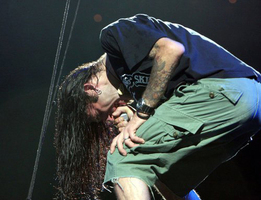 Screaming death metal is not only a question of vocal organs, but also a question of singing and breathing techniques: you'd be surprised to learn that you don't have to force your voice unnecessarily to get astonishing results. Go the safe way and exercise your voice with a teacher who can develop your skills without damaging your vocal organs. Explain to him or her what you want to achieve and your teacher will tell you if it's possible or not, and how to achieve your goal...
Effects and mixing techniques at the service of small vocals
If in spite of your efforts you can't get the vocal timbre you dreamed of, don't hesitate to use audio tricks to fatten your vocals: you can get a powerful choir to back you up (like Britney Spears in Toxic's chorus) or add saturation/distortion to your vocals (like Kim Deal in the Breeders' Cannonball); the problem with saturation/distortion is that it tends to increase hiss, sibilants and even "Rs". So be careful with the amount of effect you use...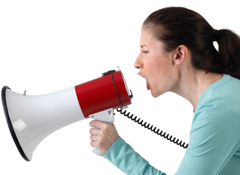 And what if you are still not satisfied? You must accept yourself as you are and make the best out of it. A clean voice never prevented anyone from making music (Robert Wyatt), you just have to learn how to make the most out of what you have... or resign yourself: not everybody was born to be a singer...