< Return to the list of user reviews
steenamaroo
« 
A new lease of life for my budget studio bass. Bright and clear, but still full and strong sounding.

 »

Publié le 09/30/15 à 15:24

Value For Money : Excellent

Audience: Anyone

[*] Product Description

Brand : Elixir

No of Strings : 4

Scale : Long

Gauge : .045 - .100 – light

Product Number : 14052

[*]Outer Packaging

The Strings are packaging in a tough enough 6"x6" (approx) flat outer box.

All the relevant information is displayed and easy to understand.

In addition, Elixir provide information, on the reverse, about their 'Custom String Shop' which allows customers to mix and match string gauges.

Also listed is a grid detailing their range of gauges and an explanation of, and diagram illustrating, Elixir's Nanoweb coating.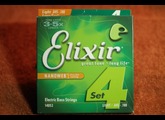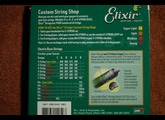 [*]Inner Packaging
Each string, as you'd expect, is wound in a 6" (approx) coil, and stored in it's own light paper sleeve.
The basic product information and gauge per string is clearly marked.
We're also told that this packaging was made from recycled paper.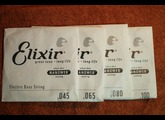 [*]String Length
Each string in this 'long scale' set was approx 50".
This was more than enough for my RBX170 which wanted approx 40" max.
Anyone fitting strings to an instrument should have access to wire cutters or snips so no problem here.
I took about 6" from each string before proceeding, ultimately leaving me between two and four full winds at the tuners.
[*]String fitting
No surprises here. Fitting the strings was a two minute job, as it should be.
The unique feel of the nano web coating became clear to me, even at this point.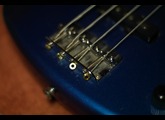 [*]Tuning
After tuning and playing for half an hour I checked tuning again.
It was close enough!
I'm not sure how big a deal this is with bass strings, but I know guitar strings generally need to 'settle in'.
I gave them a good stretch which caused them to fall, at most, a semi tone.
I wouldn't be particularly worried about changing strings during a session, from this experience.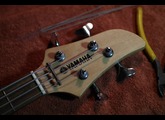 [*]Feel and Sound
The important bits.
Immediately I liked the feel of these strings.
They do feel slippy, as I've read others say, but not in a bad way. I feel like they'd be much less likely to wear on my fingers over time.
This is important as I don't play a whole lot of bass. I'm mostly a guitarist/singer.
They just seem to have a good balance of fast, but comfortable action. I didn't feel I was likely to overshoot or anything like that, but they did make playing feel lighter or easier somehow.
Unplugged, the instrument immediately seemed to have much more authority.
I could clearly hear the detailed high end of each pluck/pick/slap, without it being over powering.
There was a very obvious fullness too, which surprised me unplugged.
The body of the instrument just seemed to resonate with great strength.
Any speculation you might have about this nano web coating dulling the sound can certainly be set aside, in my opinion.
Plugging in to assess the bass and overall tone properly was equally pleasant.
No shortage of powerful low end, but the muddy low mid sound that I'd been used to was no longer present.
There's definitely something to be said for changing your strings once in a while!
My previous strings must have been medium gauge because I found these to be lighter straight away.
I'm not sure that I would want to go as far as super light, but found the light gauge to be very comfortable indeed.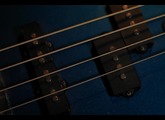 [*]Long life
Of course, I have no idea how long these are going to last.
Elixir suggest that the tone should last 3-5 times longer than with other strings.
The way I play bass I'm expecting to get 24-40 years out of these bad boys.
Seriously though, It'll be a long time before I can comment on durability.
[*]Price
The price, to me, seemed entirely reasonable.
There's no shortage of comparable sets from reputable brands (nanoweb aside) ranging from £25 to £50.
If, however, Elixir's nanoweb do allow the tone do last 3-5 times longer, they're a bargain.
This photograph is largely pointless, but I thought it was cool.