< Return to the list of user reviews
gratteurdebluesteel
« 
Definitely adopted on my bass, as previously on my guitars

 »

Publié le 12/15/15 à 12:34

Value For Money : Excellent

Audience: Anyone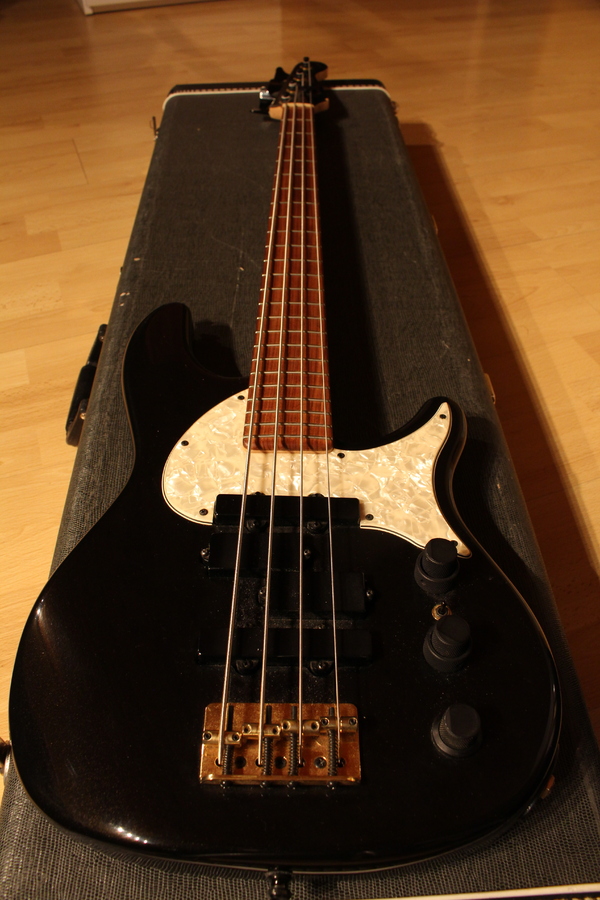 Strings tested on Fender Stu Hamm Urge bass
I play mostly pop rock, sometimes progressive rock, with a Line6 x3 live multieffect pedal, picking hand and sometimes with a pick.
Strings already used before:
Ernie Ball 2824
hybrid slinky, DR LO rider, rotosound RS66LD etc... The Elixir replaced Ernie Ball.
At first contact, the same very pleasant feeling as the first nanoweb strings I'd mounted on my guitar: smooth touch, ease of movement on the strings, unnoisy on slides...
I found them very stables as soon i installed them, as properly mounted: pull on them after installation and first tune, then tune it again.
Some records: (bass plugged directly on HiZ input of my sound card... so you can reamp these samples with your pedalboards/amplifiers if you want to...):
- picking hand few notes:
- Now with a pick:
- A little bit of slap... no worries about the coat that won't intruduce any damping effect on the sound
- Finally, a record of slides on these Elixir strings. Really pleasant on touch and to not ear finger scraping:
To me, the sound is really great, just a little bit metallic but not too much, round too... in short: balanced. In fact, well adapted for the music i do.
About longevity, i cannot comment on that for these strings, as i've just mounted them... However, with hindsight i have with guitar strings, i can say that coat efficiently protect from rust and allow to keep them for a long time... very long time... Without loosing any tone or feel limiting dead skin deposit on gaps between windings.
Right, they cost a little bit more than other strings, but we keep them so much longer that it really is worth the price.
A little compare between a classic string and Elixir String with coat (picture taken with reverse lense the get a really big magnification):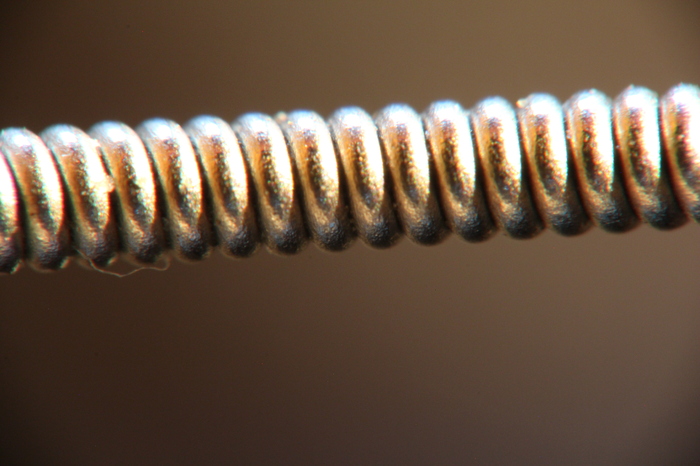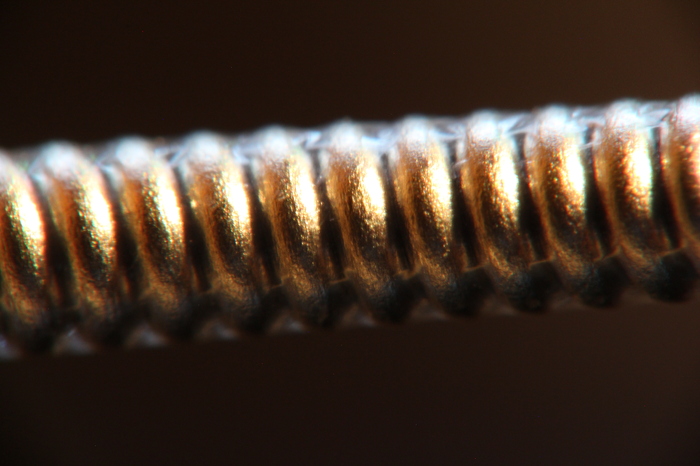 In conclusion, to me, i like the strings. Elixir is much talked about on boards... The feeling can appear as a little disturbing at first and it's only after few days using them that you should made you own opinion and not after only a brief try in a music shop... After than, you'll love them or hate them... So let's try them!
The only tone down i may add, is the lack of fun on product range... Even at have strings coat protected, why not get colored strings, luminescent or other?
+ Balanced sound
+ Long lifetime
+ Stables
+ Pleasant feeling
+ quality-price ratio
+ concept and quality of realization
- Lack of fun on product range (for the same price
)