Native Instruments has been announcing the launch of Traktor Kontrol X1 for several months now and it was even possible to pre-order it on the NI website, if you wanted to be one of the lucky first owners. Was the waiting worth it? Does the Kontrol X1 fulfill our expectations? We'll see... but let's unpack it first!
Unpacking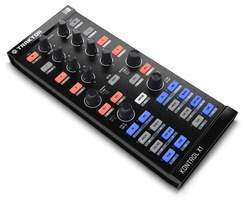 The packaging is good quality and all parts are well protected. The box contains a USB cable, a 37-page "Getting Started" document in English, German, French, Spanish, and Chinese, an installation CD including Traktor LE, the drivers, the full user's manual as well as alternate mappings for the different Traktor versions (Duo, Pro, Scratch, etc.), and the Traktor X1 unit with an overlay to rename the buttons manually if needed. On the CD, you'll also find the
Kore 2
Player software (available for free on Native Instruments' website) as well as the Controller Editor software that allows you to customize the assignment of each button for MIDI applications.
Traktor LE v1.2.4 was already installed on my computer (the X1 driver is already included in the software ever since version 1.2.3 came out), so I just needed to connect the Kontrol X1 and it was immediately recognized without the need for any further installation (however do notice that if you have an old computer you will not be able to use the controller given that it requires a USB 2.0 port!). The Kontrol X1 is USB powered so you only need to do that one connection! I had already experienced problems with other hardware controllers for Traktor, but this one is really plug 'n' play. It's a joy not to have to spend hours before the controls light up.
How Does it Look?
When you switch it on it looks like Knight Rider's KITT… The dark design is sober but well-achieved, all buttons and knobs feel sturdy, pleasant and they seem to be good quality. The Kontrol X1's layout is symmetrical and almost all controls are mirrored so that you can control both decks (A and B) independently. The only buttons that aren't doubled on the X1 are Shift and Hotcue.
The unit is light (1.5 lb.) and slim (4.7"×2"×11.6"). If you play live with a full DJ set, you'll have to buy the optional Kontrol X1 Bag so you can raise the Kontrol X1 to the same height as a mixer or turntable. The Kontrol X1 includes four anti-slip pads.
All buttons have two different backlit levels: dimmed when inactive and bright when active. This feature is very convenient to find a specific function in dark environments. Both brightness intensities can be adjusted in Traktor. The knobs are not backlit but you can find them pretty easily thanks to the buttons around them.
Each button has different colors to distinguish the different functions:
Effects = orange
Browsing and loading = orange (it would have been nicer if it was a different color)
Loops = blue
Transport = blue (a different color would have been nice)
MIDI = green
Shift and Hotcue = white
First Contact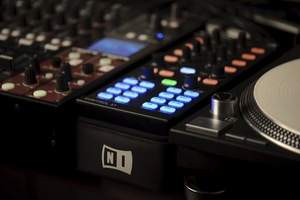 The first thing that caught our attention was that it's impossible to find the deck's volume setting, not to mention a crossfader. Mixing is impossible considering that the volume parameters are not assigned to a knob.
All buttons have a main function which can be accessed directly, and an additional function available through the Shift button. You have to be careful with that because, for example, if you want to adjust the tempo of a song and you forget to press the Shift button you'll activate a loop instead.
The Kontrol X1 communicates with TRAKTOR via USB using Native Instruments' NHL (Native Hardware Library) proprietary protocol, with a much higher encoding resolution than the standard MIDI protocol. However, we couldn't really notice any obvious differences with controllers using MIDI.
Before trying out every single function, we tried to unplug the USB cable while "live" and noticed that it has no impact on the audio playback. Connecting the cable again has no consequence either and you can take control again within a few seconds as if nothing had happened.
Kontrol X1 Sections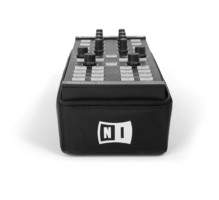 The effects section is very confusing! FX1 and FX2 buttons (available on both decks) allow you to load an effect on the deck, however they don't actually correspond to FX1 and FX2, but to the Up and Down effects selected (once you know that, it's easier…). The Shift button is supposed to give direct access to predefined effects like flanger, reverb and delay, unfortunately the information displayed doesn't match the action assigned. It probably has to do with the assignment of additional functions to these buttons in Traktor LE and the assumption that it is clearer in
Traktor Pro
(which we haven't tested). The "2" button is not assigned so it has no function in Traktor LE.
On the other hand, the ON button was an excellent surprise because it allows you to temporarily activate an effect (the effect stops when you release the button); it's a real treat – those of you who have tried the same with your mouse know what we are talking about… The "1" button allows you to activate the effect permanently, while the "1" knob allows you to adjust the effect's amount in the original signal (dry/wet). With the "2" knob you control the effect and the "3" knob controls the deck's filter.
The Browse controls allow you to load songs on the deck. Browsing is smooth and effective. However, it is apparently impossible to browse through playlists or folders and you'll have to use your mouse. The Browse controls are surrounded by the FX buttons, which is a bit perplexing in the beginning but it turns out to be quite convenient because they are easily accessible given their position right in the middle of the Kontrol X1.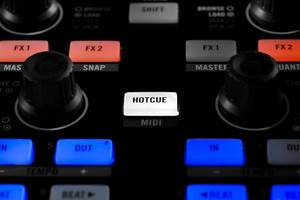 The Loop control is very practical since it allows you to select both the length of the loop and to activate or deactivate the loop. We regret that there's no function to select the end of the loop in 1-bar steps (for each loop) instead of only in 2, 4, 8, 16, etc., measures (you have to go outside the loop to set this more precisely).
The unit provides a basic transport section: play/pause, sync, cue, and cup. In case you synchronized the beat "manually", the Beat buttons allow you to shift the playback position of a beat forward or backward.
A nice surprise is that the Cup button flashes to show the tempo of the track.
The tempo setting is accessible via the Shift button.
Hotcue mode is not available in Traktor LE so you'll have to get a more powerful Traktor version to use it. The button lights on and deactivates all 16 buttons on the lower area of the Kontrol X1, which is useless considering that they have no function in Traktor LE.
Finally, the MIDI mode allows you to use the control surface with older Traktor versions (previous to version 1.2.3) that don't support the NHL protocol, and also to control other MIDI software or instruments.
Who is the Kontrol X1 for?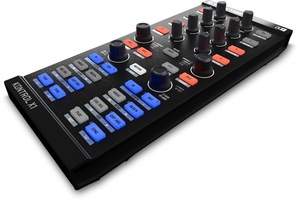 When we first started to check out Native Instruments' website several months ago, we expected an ultra-portable, advanced mixing solution we could use with a MacBook Pro, for example. Such a product would've been ideal for DJs looking for an ultra-light, powerful solution. But, as you have probably already guessed by now, the X1 falls short because it lacks volume controls. Moreover, the price is a bit too high ($199) for a "standard" USB controller which can't be used as a mixer with a notebook to provide a comprehensive but lightweight mixing solution.
The Kontrol X1 doesn't have an integrated audio interface either and you'll have to pay $99 for the additional 2 DJ audio interface. For the same price, you can find quality controllers like Numark's Omni Control ($250) including an audio interface (master and phones), three volume controls and two scratch wheels – an all-in-one portable solution.
The video on Native Instruments' website show DJs using "full systems" with Traktor Scratch Pro, two turntables and a big mixer. That's the right target! The Kontrol X1 will allow you to control Traktor without even having to touch your computer, if you can use the Hotcues (not assigned in Traktor LE). With such a system, the Kontrol X1 offers many advantages and reveals itself to be extremely effective – even essential – because so much gear on your desk makes it difficult to control your computer with a mouse.
In that case, the Kontrol X1's $199 tag seems more appropriate, considering the price of the whole system.
Conclusion
The Traktor Kontrol X1 is a well-manufactured and excellent-quality product that seduced us. It is extremely easy to install: real plug 'n' play. The backlit buttons look great and are very practical in dark environments. So, yes, the Kontrol X1 looks really hot! But it is almost impossible to use it as a mixer with a notebook, which is a pity because it would be a real plus for this slim and light controller which fits my carrying bag perfectly along with my notebook. It only lacks two controls for Native Instruments to be able to target DJs using compact systems.
Plug 'n' play
USB powered
Great design and finish
Lightweight and compact without compromising operation
"On" button in the filter section
No track volume control! Requires an additional mixer!
Price ($199)
Additional products required to make full use of the Kontrol X1: Traktor Pro ($199) and Kontrol X1 Bag
Unfortunate names on some buttons with Traktor LE