For a long time, Ddrum was a name only synonymous with drum triggers. At its inception this made a lot of sense, but lets fast forward through the company history and development.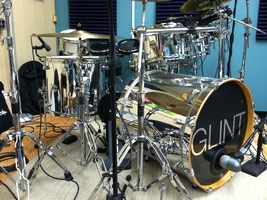 The brand actually began as a division of Clavia, the Swedish electronic instruments manufacturer best known for the Nord line of keyboards. In 2005, Ddrum was acquired by Armadillo Enterprises, a company who also owns Dean Guitars. The acquisition turned out to be not only a turning point in the company's history, but it also helped broaden its catalogue by launching them into manufacturing acoustic drum kits. Today, Ddrum offers a respectable variety of acoustic drum kits. Each of the Ddrum series features distinctive construction and sound, providing a quality palette for all types of tastes, budgets, and musical styles.
The Ddrum Reflex is one of the newer drum kit series released by the company. Like all the other series, Reflex also comes with unique features that help characterize not only its sound, but also its market value. Reflex represents Ddrum's intention of delivering a high-end drum kit with a much more digestible price tag for the masses.
Defying Standards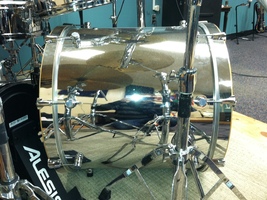 Some of the features that the user will find on Reflex will certainly not reflect the same standards of the majority of kits out there. Take for instance its bass drum. An unusual and impressive 22" x 20" size brings edge to both its look and sound. The bass drum, as well as its snare, features 8-ply shells enhancing sonic quality. Reflex comes with 10" and 12" rack toms and a 16" floor tom. One might argue about the disparity of jumping from 12" to 16" and avoiding the traditional 14" rack tom. That, once again, is Ddrum's way of further pushing the limits of conformity in the drum kit market, making their series stand out from the rest.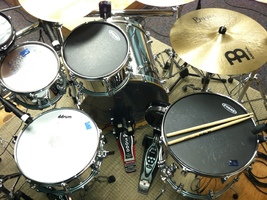 But the feature that really gives the Reflex kit its uniqueness is the wood from which is it constructed. Apparently Ddrum is the first company ever to use Alder wood (Alnus Rubra) as the prime matter for a drum kit. Commonly used on guitar bodies (and frequently found in furniture) Alder wood resonates a rich tone while simultaneously being lightweight. It is also abundant in the environment, allowing for a more affordable market value when compared to more traditional woods used in drum kits such as maple for example. Interestingly, Fender has used Alder wood for over 50 years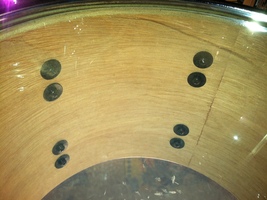 for the bodies of their legendary guitars.
Reflex also comes with a few of the more commonly found features such as the Face-Off Lugs, standard tom arms and clamps and single-ply stock drumheads. This series also offers an assortment of interesting and attractive finishes to choose from. Chrome and White Bubble Wrap are certainly eye catchers.
Sonic Distinctiveness
When evaluating its sonic qualities one starts to better understand more about the construction choices made by Ddrum for the Reflex series. Overall, the kit projects a well-defined attack with the right amount of warmth, just enough to give fullness to its bright presence. When analyzing the kit in parts, one can more accurately see how each segment of the kit supports and complements the other. The elongated bass drum produces an impressive clear attack, especially when taking into account its enormous body, which emanates plenty of low frequencies as well. Much like the bass drum, the snare also produces a sharp response accompanied by a fat quality that one can sometimes only find in more expensive snare brands. The Reflex's toms are, at least in my point opinion, the elements that give the extra sonic edge to this kit. These short toms, especially the rack ones, project such a defined attack that bears the sonic qualities of a timbale. Think Neil Perts' kit on Rush's R30. The floor tom, although sharing certain sonic aspects of the rack toms, it also produces a well-balanced sound like the bass drum, with nice attack and not overwhelming "boomingness".
Although I could certainly see the Reflex kit being used in many different types of music, I believe it would be a perfect match for jazz, funk, R'n'B, Drum'N'Bass, and Pop Rock drummers.
On the Bright Side…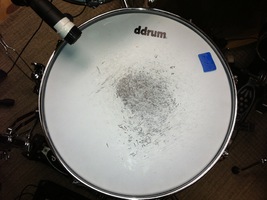 Ddrum's Reflex is certainly not the usual $500 drum kit that envisions imitating some type of more expensive one. It's definitely a drum kit apart from the rest. The very characteristic of being sonically and visually different from its counterparts makes Reflex a drum kit to be sought out. And on top of that, its affordable price makes it a great investment for any type of drummer, be he/she a beginner or a professional. Reflex definitely sounds like reflex and nothing else. And one has to appreciate that. It's in the details like the elongated bass drum, the choice of wood, and the uncommon array of tom sizes that the appeal for kit is built upon and where the consumer will find its value.
Yet another good side of this kit is that it comes with something that many other brands have attempted but failed to accomplish. Good sounding stock drumheads. Reflex features single-ply Ddrum-brand drumheads. Their durability, as anyone might guess, are definitely not their strong selling point as they will wear out quite quickly, especially for hard hitters. But sonically, they sound really great. It makes the kit very exciting to play one you first set it up. It also works as confidence booster since it makes one feel that he/she made the right purchase choice. Definitely another bit of evidence that whoever came up with Reflex's package had put some good and hard thought into it.
…On the Not So Bright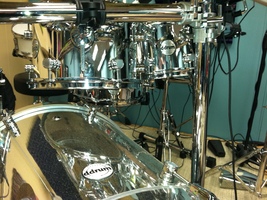 Many of the most respected (and expensive) drum kits do not come with a rack tom mounting system attached to their bass drum. The majority of kits with a lower price tag, just like Reflex, do. But that's not the case. Such mounting systems, as many drummers out there know, presents advantages and disadvantages. Basically what it does is it affects the tonality of toms and bass drum, because vibrations and overtones directly travel across the tom stand. But on the other hand, it makes the set up of the kit more practical. So this issue is more of a compromise that one that has to do with a design flaw. Reflex is the type where perfection of tone seems to weight more than convenience for set up. Make sure to have a stands or a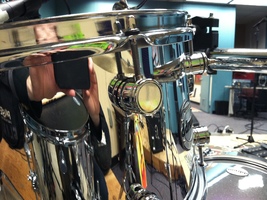 drum rack available if you intended to purchase this kit
A second issue that seems to bother, at least this reviewer, is the face-off lugs. The problem here is more aesthetic than mechanical. To my eyes, the face-off lugs give a certain look of cheapness to the kit. They do function great and they can handle a decent amount of tension without ever detuning, but I feel that if Ddrum had invested a bit more into this small detail, the kit would certainly look more professional. But I also understand that simple details like this can play a huge part in a product's cost.
Conclusion
When analyzing construction, sound, look, and especially price, Ddrum Reflex is a drum kit that is worth every penny invested on. I feel it is very difficult to find a kit in this price range that can offer the professional construction and sonic qualities that this kit does. In a recording environment as well as in a live performance setting, the Reflex drum kit is able to handle both quite well. It projects presence and body into a drumming performance.
For those just begging to drum as well as to seasoned drummers, Ddrum Reflex is a kit worth checking out at the store. If Reflex does not fit all the requirements that one is looking for in a drum kit, I can see it serving as the middle of the road kit for such a person. But I feel would be really hard for one to not like Ddrum Reflex. I'm sure even band mates will be impressed once they discover how much of the budget you used to paid for it.