NAMM
[NAMM] New Electro-Harmonix pedals
See all NAMM Show 2014 news items »
Electro-Harmonix will be at the NAMM Show 2014 with no less than 11 pedals, including these three…
Holy Grail fans will be delighted to hear that there's a new Max version of the reverb pedal hitting the stores soon. Not only does it share the Print and Hall effects of the original, but also a Plate and a Reverse for the most adventurous. That means you get four switchable reverbs in total.
The Holy Grail Max features a Blend control to mix the dry/wet signals, as well as a Time multi-function control to adjust the decay of the Spring, Hall and Plate modes, or the Reverse time. The Holy Grail Max will carry a $214.12 price tag (9.6V power supply included).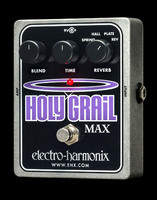 Next we have the EHX Tortion, an overdrive/distortion and JFET preamp pedal that can provide vintage and modern sounds. It features a boost switch, independent gain and volume controls, a 4-way Pre-Gain selector, and a 3-band EQ. The EHX Tortion runs on a 9.6V DC power supply (included) and will sell for $198.67.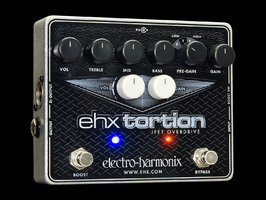 Finally, fuzz lovers on a tight budget will enjoy the Satisfaction Fuzz, a true bypass pedal with only two controls: volume and attack (fuzz). It is powered with a 9V battery (included) or an external power supply (optional) and will cost $69.54.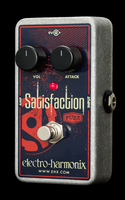 Viewers of this article also read...