The launch of the Spark, which we had the opportunity to review here, generated a lot of excitement. But Blue Microphones shows no intention of stopping there and has introduced a new microphone with a quite... different look?! Reactor enriches the product range of the US brand while staying faithful to the philosophy of offering affordable, but original products. Let's dig into the details.
How Does it Sound?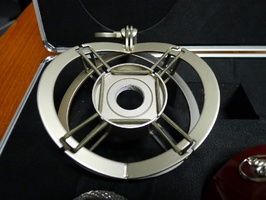 I find the Reactor does a quite good job in all four examples. There's no doubt it's a modern mic with high output level and emphasized highs. Regarding the preamp, we kept the same gain setting for both mics in order to show their different output level. In the mono drum-ambiance sample, the Reactor emphasizes the overall brightness of the drum kit. The cymbals clearly cut through, as does the attack of the toms, giving quite a lot of presence and attack to the overall sound. The sound is bright rather than sharp, although that depends on the cymbals… It would have been interesting to try out a couple of Reactor as overheads. However, I fear that the weight of the microphone makes it difficult to put it on a stand and place it in the right position…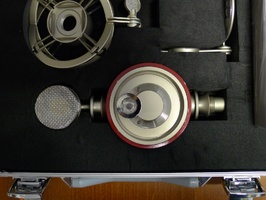 As for the acoustic guitar, we got a consistent result with tight low-frequencies, especially good for strumming. On the other hand, the brightness of the sound can become problematic with electric guitars, especially during mixdown, since it provides them an aggressive character, particularly to rock guitars. For this task, I prefer the U87, although the latter is really not my favorite choice for electric guitar miking… But then again, it's all a matter of taste.
The sound source that benefits the most from the frequency response of the Reactor is the human voice. With this mic, vocals sit seamlessly in the mix. Vocals are Reactor's favorite and the results clearly show it. This mic ought to match most human voices except for some very sibilant female ones. But once again, it's all a matter of taste! I personally don't really like the current "trend" of most modern microphones where the frequency response has a boost around 10kHz… Even today's ribbon microphones are becoming brighter(!!) — in what world are we living?
Download the sound files here: flac format
Conclusion
Blue Microphones ups the ante when it comes to originality with this characterful microphone. The Reactor is bright both in terms of look and sound, and it will serve a wide range of recording applications. The microphone gives good results with many sound sources. However, do note that you have to use it with a sturdy stand if you want to place it in strange positions, in spite of its 90° swiveling head. Nevertheless, with this small rocket, you get Blue's very good engineering and manufacturing quality for just $500.
Thanks to Red Led for his legendary guitar playing and to Marc Upson (Upson Studio) for letting us use his facilities… and for his patience. Red Led appears courtesy of LeftWing Beard&Glasses Publishing