Let's end this week with another famous name: AKG and their reference-class K 702. Our opinion about its little brother, the K 271, was pretty balanced: it has a very detailed high-end but a too weak low-frequency range. What about the K 702?
Red Led's Conclusion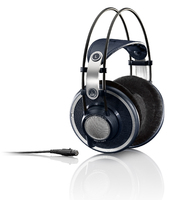 The K 271 mkII didn't quite satisfy us but its big brother really seduced us. The low-end is still a bit shy but it sounds very well and very detailed; much better than the K 271. These headphones actually redress the main disadvantage of the K 271. They are certainly the most linear headphones we ever reviewed and the dynamic range is just amazing. They reproduce every detail of the signal very accurately, which makes them perfect for mixing. Moreover, the K 702 are light and comfortable. They feature replaceable ear-cup cushions and a replaceable cable thanks to the mini-XLR connector. If we consider that a good pair of headphones shouldn't emphasize the lows, these are the ultimate headphones for you. My own personal revelation among the headphones reviewed.
Well-balanced sound
Weak but accurate low-end
Very wide dynamic range
High-end reproduction is detailed but not sharp
Mini-XLR connector
Light and comfortable
Ear-cup cushions and cable available as spare parts
If you like fat lows, don't buy them
Will Zégal's Conclusion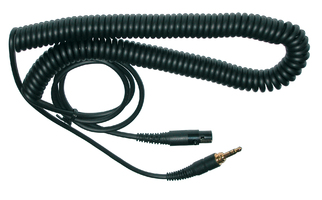 AKG stays faithful to its reputation and the K 702 are probably one of the best headphones in their category. Although they aren't perfect (it seems perfection doesn't exist in this price range), and considering that compromises are inevitable, these headphones are for sure the best choice if you can live with a weak low-end — and if their design fit the shape of your head.
Nice, timeless studio look
Good spectral balance
Excellent sound definition
Good value for money
Slightly weak low-end
Improvable wearing comfort
Mids sound slightly nasal sometimes
Los Teignos' Conclusion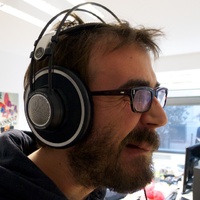 The K 702 are comfortable and light and they are surely one of the best headphones I've ever reviewed in this price range. To me, they are also much more valuable than the K 271 we already reviewed. In fact, they correct the main disadvantage of the K 271 — which is a lack of low frequencies — and behave equally well or even better in the high-frequency range. To me, these headphones are the perfect complement for the Ultrasone 2900 and they perform very well for tracking and editing applications, as well as for rough mixing and checking mixes.
Excellent high-end
Lightness
Much more low-end than the K 270
However still limited it terms of low-frequency response