Our Headphones Week continues with the Beyerdynamic DT-880 Pro, the big brother of the DT-770. Having the DT-770 as a reference, we had high expectations for the DT-880... Verdict!
Red Led's Conclusion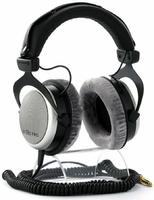 The first advantage of the DT-880 Pro is their price: these headphones are the cheapest in our test. They inherit all the features of the DT-770 Pro, which we really liked last year, and they even fix some disadvantages we noticed then. In fact, the low-frequency response is much smoother than with the DT-770 (no troublesome dip @ 80Hz anymore). The high-frequencies are still very detailed, sometimes almost tiring. The headphones offer perfect comfort but they are not foldable and they are rather bulky. The DT-880 Pro take after the DT-770 Pro and straighten their main defect. Very good value for money.
Price
Comfortable
Wide frequency range
Ear cup cushions available as spare parts
Smooth low-frequency response
Tiring in certain situations
Cable not replaceable
Will Zégal's Conclusion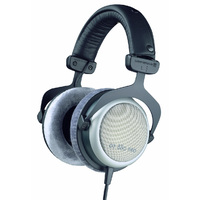 With these headphones I had the same feeling as with the DT-770: they are at the top of their category but, not taking into consideration their price, I wouldn't make them my personal favorites due to some drawbacks. With their numerous advantages and aggressive price, these headphones are highly recommended for almost any user, especially for those with a limited budget.
Quite comfortable
Wide frequency range
Amazing price
High-frequencies are a bit tiring
Some sounds seem to be veiled
Pressure point of the headband
Los Teignos' Conclusion
I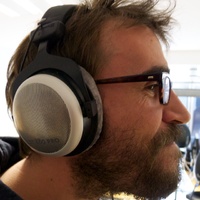 loved the DT-770 because they offer a great high-frequency response and a very detailed reproduction of every instrument in a mix — and now the 880 give me all of this and even a bit more. While the DT-770 exhibit a small dip in the low-end, the 880 give better results thanks to a smoother overall sound. It's obvious on vocals: they always sound natural and well balanced while the spectral signature of other headphones produces nasal or muffled vocals. Although too warm and heavy, the DT-880 are comfortable and they are the most affordable headphones in our test. They certainly don't have the low-end of the Ultrasone nor the highs of the AKG. Still, if I had to keep only one pair of headphones from this review, I would choose this one.
Comfortable
Smooth sound reproduction without obvious weaknesses
Excellent value for money
They get too hot after long sessions