The Ultrasone Pro 550 didn't convince us when we compared headphones under $150. But the brand is famous for its high-class headphones. So what about the Pro 2900, the flagship in the Ultrasone product range?
Los Teignos' Conclusion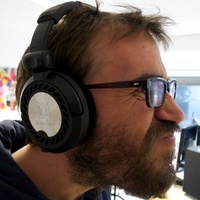 Ultrasone certainly brought some fresh air to the market of pro-audio headphones with original products that are very appealing compared with the standard tools from Beyer, AKG or Sennheiser. In fact, the sound signature of this Pro 2900 will surprise many users with its extreme low-end and sharp high-end. But you'll quickly come to understand that these features are real advantages because this pair of headphones emphasizes exactly the information that is inhibited by the other headphones. I'm not sure of whether these are the ideal headphones if you're looking for absolute sound neutrality, however they are already a reference.
Reproduction of very high frequencies
Reproduction of very low frequencies
Accessories and packaging
A strong personality without competitors
Technology reducing electromagnetic radiation
Commitment to a sound signature that won't be every user's taste
Ear-cup cushions tend to unscrew too easily
Red Led's Conclusion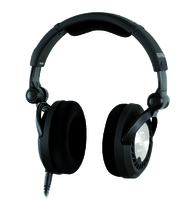 No surprise with these headphones: they are Ultrasone! The low-end response is just mind-blowing: you get very low frequencies and hear details you can't hear with the other products in our test. The frequency response is everything but linear: overemphasized lows and a nice boost at 3–4kHz. The exact opposite of the AKG and their much more linear frequency response. The Ultrasone can be surprising in the beginning, thus I recommend you to try them out before buying them, especially considering their price. Personally, I find these headphones are not very comfortable and the ear-cup cushions tend to fall down. I recommend this product for tracking and to complement compact monitor speakers, so that you can check the low-frequency range. If you want to mix with headphones for hours, I recommend you to choose the AKG or the Beyerdynamic.
Very deep low-end
Detailed sound reproduction
Replaceable cable and ear-cup cushions
Transport bag included
Two cables and two pairs of ear-cup cushions provided
Hi-mid response sometimes too sharp
Ear-cup cushions tend to unscrew very easily
Somewhat expensive
Will Zégal's Conclusion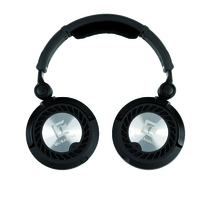 This Ultrasone are excellent headphones. In this price range, they belong to the best I've ever tried. I highly recommend these headphones for tracking and to fine-tune a mix made mainly with monitor speakers.
On the other hand, if you work mainly with headphones, I would not recommend them for long sessions, due to their weight and sharp high-frequency reproduction. I wouldn't recommend them either if you want to listen to music for long periods. And don't forget their emphasizing sound. It seems you have to know these headphones very well if you want to make a good job with them. In fact, they remind me of the Beyerdynamics DT770 from our review of headphones under $150: they sound very good but don't meet the requirements for long listening sessions; unless you already have ear loss in the high-frequency range.
Sound quality
Open audio spectrum
Deep sound
Stereo image
Not very sexy-looking
Overemphasized sibilants
Slightly emphasized low-end
A bit too heavy