Through March and April, Toontrack lowers the price of its expansion packs for EZdrummer.
For the next two months, you can get 40% off all Toontrack EZX packs if you buy online (until April 28th) and 50% if you choose to visit your local dealer (until April 30th).
The offer is valid for all EZX packs, including Americana, Claustrophobic, Funkmasters, Jazz, Metal, Rock or the Twisted Kit, each for 41€ at www.toontrack.com.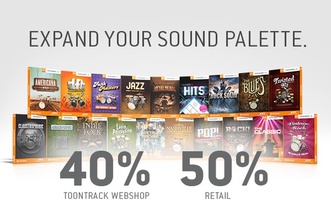 Be the first to post a comment about this news item
Viewers of this article also read...