How about mixing MP3 files without a computer? That's the goal of the DJ-Tech U2 Station MK2...
DJ-Tech's commitment is to offer affordable products for the masses, as their slogan clearly states: "not only for DJ." That's why the manufacturer offers fun products that meet the needs of most people, from beginners to a bit more experienced DJs.
The U2 Station MK2 is the second version of the DJ-Tech U2 Station. The concept of this small mixer is to allow the user to mix digital audio files in MP3 format. Offered at a reasonable price, the device works as a full standalone mixer without any computer support.
The 14.1" × 9.4" mixer has a nice, black glossy finish — you can almost see yourself in it, but watch out for finger marks! The control elements have different quality levels: faders and EQ controls are not very smooth, but the backlit switches react very well and feel pleasant under your fingers.
Inside the product's box you'll also find a CD with Magix Audio Cleaning (SE). This software only works on a PC (no Mac version) running Windows 2000, XP or Vista (no Seven support). In fact, the software provided with the product is Audio Cleaning 9.02 while the current version is 16.00. I find it a bit awkward to provide such an old version. Nonetheless, this version is enough to convert your CDs into MP3, which is the program's main purpose. However, Magix's support reacted very fast and gave me version 16 for free, which I could install on Seven without a hitch. This software will allow you to import all your analog audio sources (vinyls, tapes, etc.), clean them (of noise, hum, etc.) and convert them into MP3 files so you can use them directly with the U2 Station. The unit hosts an internal USB sound card that allows you to connect all sorts of old analog gear to your computer.
Sound Sources
Each channel has four different inputs: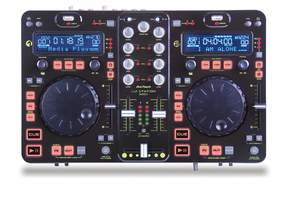 – Line/phono input (switchable via a small selector on the rear panel of the U2 Station). It's an excellent idea to provide a facility that allows you to connect analog sound sources to a digital mixer. However, notice that not all functions are available for this input, most notably the BPM counter, which works only with digital audio.
– Two USB ports (A and B ) on the top panel. Note that it is not necessary to connect two USB devices to be able to mix: only one USB device is enough. You can use all songs included in the USB device with both players, fully independent from each other.
Your USB hard drives and keys must be formated in FAT 16 or 32, the only formats supported by the U2 Station. One might have expected an Apple iPhone/iPod connection, like on other DJ-Tech products, but that's not the case this time around! You got it right, the mixer provides you with two independent MP3 players. They constitute the core of the U2 Station.
Bloody Sunday for My MP4!
The mixer's main advantage is that it's a fully standalone concept made possible thanks to the USB port for hard and pen drives with up to 250 GB in capacity. But watch out, there is an important limitation: this mixer can play back only MP3 files! It does support all possible MP3 files from 32 to 320 kb/s bit rates (CBR and VBR) but no other formats like AAC (.m4a), OGG, WAV, etc. All non-supported files will be ignored when you browse the files so they won't disturb you during your search.
Search
A Folder button allows you to access the different path levels of your external USB device: the name of the current folder is displayed on the LCD. All folders and subfolders are shown in alphabetical order, up to a limit of 999 folders.
The Track button allows you to browse all files in the current folder. The 10 first characters of the file are displayed on the LCD. To see the rest of the characters you'll have to scroll a bit. Pushing the Track button again shows the ID3 Tags: track title, artist name, genre, bit rate.
If you organize your files on the USB device, it should be easy even with a huge number of files. However, the number of files per directory is limited to 999. Enough for most mixes, I suppose. Do consider that it won't work even if you copy 10,000 files onto your USB key! A bit tidiness will improve your performances! If you've ever had to look incessantly in untidy flight cases for THE song that will rock the dancefloor, you know what I mean!
Get Started
Controls are pretty basic:
– Play/Pause button plus Cue button to immediately jump back to a marker you set in a song.
– Loop facility: IN and OUT buttons to set the beginning and the end of the loop. The IN button also allows you to set the cue point marker.
– Pitch control (playback speed) plus different tools to adjust it: a control allows you to set the global tempo, "+" and "-" push buttons to increase or decrease the speed temporarily to sync it with the other song, and a jog wheel (see below).
Push the play button and the sound starts immediately. First impression: the sound is warm, round and dynamic. Good audio quality.
Some more features are less standard on products in this price range:
– A Reloop button allows you to immediately jump back to the cue point when you start the playback. It's a kind of shortcut to avoid the Cue + Play combination and the resulting audio drop out: nice!
– A BPM counter that indicates the Beats Per Minute on the LCD. By default, the auto BPM counter is on but you can disable it using the TAP button: just tap with your fingertip and the BPM value appears: Magic! This is especially useful with songs that have complex rhythms.
– A small "%" button allows you to adjust the range of the pitch setting (4%, 8%, 16%). On DJ-Tech's website it says that it's possible to set it to 24% but that's impossible. 16% is the maximum. On the other hand, it's more than enough.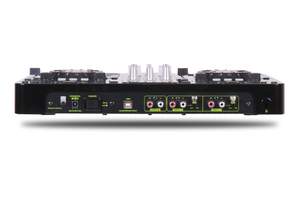 The BPM counter has a surprising behavior: it can be very fast (about three seconds) or very slow (up to 25 sec.) depending on the song's complexity. The precision is ok but it doesn't quite reach the performance of a professional mixer. Yes, it is annoying, but it's not dramatic because the BPM counter is just an indication for the DJ and it doesn't control any function (effects, auto-sync, etc.).
– A Tempo Lock button allows you to hold the pitch of the song when you change its speed, so you can avoid Tom Jones sounding like Vanessa Paradis when the speed is set to +16%…
Considering that the product is conceived for the masses (for most of your family), it lacks an auto-sync function that synchronizes the BPM and beats of the two tracks. In fact, while an experienced DJ will sync two songs effortlessly using his ears (and he will very unlikely buy this mixer), this is one of the most difficult tasks for a beginner, who will certainly miss this function and may even get demoralized… The good side is that it can encourage beginners to persevere and develop their skills. All these automatic functions didn't exist 10 years ago and it forced us to improve our hearing — yes, we sometimes made sync mistakes, but who's perfect?
Channels
You have everything you need to mix:
Faders with a five-LED VU-meter that ranges from –10 dB to +6 dB
Three-band EQ with kill function: pushing or turning a rotary control fully counterclockwise cuts the respective frequency band.
Gain control
Master control to adjust the global output volume
Crossfader to progressively fade between left and right channel
Let's have a closer look at the crossfader: The mixer provides two remarkable features considering its price: a crossfader curve control (allows you to adjust the smoothness of the transition from virtually linear to almost on/off) and the channel auto-start function triggered by the crossfader (the left channel is muted as soon as the crossfader is set fully right and vice versa), so that you don't need to push the Play button anymore. I know, it's a feature for lazy people!
XXL Jog Wheel

The wheel feels pleasant under your fingers and reacts well to all functions. However, it seems a bit too light to simulate the inertia of a turntable plate. But, on the other hand, the mixer has the advantage of weighting only 4.4 lbs.
You can use the jog wheel in four different ways:
– Normal mode: during the playback, it allows you to temporarily set the pitch from –100 to +100% in order to sync two songs. If the song is in Pause mode, the jog wheel will allow you to scan it very precisely (1/75th of a second) to set your loops and cue points.

- Search mode: just push the Search button to activate this mode. The button lights on. This mode gives you the possibility to scroll really fast within a song: one full turn moves you 10 sec. forward or backward.

- FX mode: allows you to adjust the parameters of the echo, flanger and filter effects. The FX button lights on when the mode is active.

- Vinyl mode: just push the Vinyl button to activate this mode. The button lights on. This function is an excellent surprise: the Scratch function works really good, the simulation sounds very nice and it reacts fast and accurately. It certainly cannot replace an SL 1200 but it is really usable and scratch fans will enjoy it.
Effects
You get three adjustable quality effects: echo, flanger and filter. You can adjust them using the XXL jog wheel. Each effect can be activated pushing the respective button above the jog wheel. They light on to show the currently active effect. Holding down of one of the effect buttons allows you to adjust the parameter's default value.
Advanced Setup
The documentation mentions that the firmware can be updated, but there is no firmware available on the manufacturer's website (perhaps this feature is aimed for DJ-Tech's support in case of trouble). This is often the case with such products. Our U2 Station uses firmware v04.02.
An advanced setup menu is accessible via LCD panels and provides you with the following adjustable parameters: auto cue, relay (toggles automatically between player A to player B at the end of each song), fader start (turns the auto-start function of the players on/off when the crossfader is placed fully right or left), and crossfader on/off.
Conclusion
The small U2 Station MKII is a controller you can take with you anywhere. It's an excellent product. It lacks almost nothing, all essential features are present, except for a button to sync the BPM and beat of the two MP3 players automatically. This feature, as well as AAC compatibility, is a real drawback considering that the product is designed for beginners who mix for their grandma and cousins. Otherwise, this mixer has everything a professional product does and it offers many features you'll only find on much more expensive mixers or tools that use sophisticated software and require a computer.