The American manufacturer Blue Microphones — famous for its emblematic Bottle — decided several years ago to extend its products range by offering more accessible microphones with the same reliable manufacturing quality. Today, the brand reaffirms its ambition and launches the Spark, a condenser microphone that redefines the down-market mics, both for Blue and its competitors. Will it sparks things off?
Explosive Package

It seems that "famous brands" have made it a national (international, I beg your pardon) sport to offer low-budget products to compete directly with more aggressive competitors… even if still surprising. Especially if the manufacturer's flagship costs almost $6,000. Now, the Bottle can be seen in many recording studios and in front of many famous artists, however, it's not the first time Blue has tried to offer low-budget recording tools… From USB mics to iPod accessories, its product range grew over the years and reinforced the reputation of the brand that was previously inaccessible…
What's at stake with the Spark is very high, especially due to it's low price: $199! How can a mic with such a low price find a place in such an aggressive market segment? Is the brand trying to use its fame to attack a market segment that is almost saturated?
I must admit that, at first, I didn't understand a thing. The first nice surprise was the packaging itself. The Blue Spark is sold in a small wood case including accessories we didn't expect considering its price. In fact, you get a small shock mount and a windscreen conceived by Blue to match the capsule size. In spite of its modesty, the brand didn't relinquish its habits nor professionalism — on the contrary, it has kept its identity.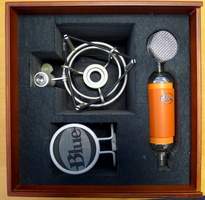 Inside the case you'll also find a brief user's manual with original layout and pictures. In fact, the technical documentation provided reminds a matchbox, which only reinforces Spark's universe and design. Very well done. The manual is comprehensive enough and easily readable. Beginners and experienced users alike will find something interesting inside. For instance, you'll find small schematics explaining how to use the Spark optimally, i.e. in which recording situations, with which instruments, how to place it in front of the sound source, etc. You will also find all standard technical data, in case you're looking for precise information instead of nice images. Certainly, the manual is only a small part of the product, but it reflects the quality of the whole… And, considering the price, the manual is surprising and very well conceived.
Heart-Shaped Sound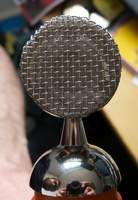 The time has come to put it to use. When in your hands, the sturdiness of the mic is comforting, even if the nice orange body gives it a slight "plastic feel." Without being bulky (less than 8" height), the Spark can be imposing. Its finish doesn't quite reach the quality of Blue's expensive products, which is completely normal. However, just like with the packaging, its features are very serious and you can easily recognize the "Blue touch."
This is manifest by the cardioid capsule decoupled from the body, perpetuating the Blue aesthetics of other Essentials Series products like the Baby Bottle and Blueberry. From a technical standpoint, the Spark promises a good performance: 20Hz-20kHz frequency response, 28 mV/Pa sensitivity, 128 dB SPL, 84 dB SNR.
Having a closer look at the mic, you'll notice a small Focus button on the rear bottom end of the body. Even if the documentation tries to distinguish this feature from a standard low-cut filter (it changes the input voltage of the capsule, thus modifying the frequency response and the overall dynamic behavior), the frequency-response curve shows that this function acts in fact as a low-cut filter.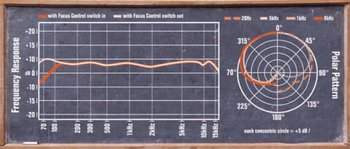 You'll notice some light boosts on different frequencies along the frequency range, to "enhance" vocal recordings. However, we found nothing too exaggerated in the frequency response curve, which is pretty linear in general.
The Spark That Sets the Sound Ablaze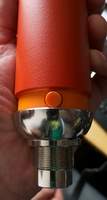 According to the manufacturer, the Spark can be used with virtually any instrument or singer thanks to an almost linear frequency response and the lack of major sound alterations. Before putting that to the test, let us take a look at the accessories included, especially the shock mount. Although the shock mount meets all requirements, I had some difficulties tightening it properly. It is definitely not the best shock mount out there, but don't be too demanding and keep in mind that the Spark is a low-budget mic.
On the top rear side of the body you'll find a small screw to fix the windscreen provided. It matches the size of the capsule perfectly, it looks very good and is effective enough, but it's a bit too close to the capsule. This windscreen will be perfect for most users and applications, but for people like me who like to adjust the distance between the windscreen and the mic, it won't replace a standard windscreen…
I set out to verify if the Spark indeed gives proper results with any instrument. In order to give you a reference (very unfair, I admit), you'll find each example recorded both with the Spark and a vintage Neumann U87. As I wrote before, my goal is not to compare the Spark to a tried and true mic (which costs ten times as much), but just to give you a comparison point…
Acc strumming Blue Spark

00:24

Acc strumming U87

00:24

Acc fingers Blue Spark

00:22

Acc fingers U87

00:22

Clean Gtr Blue Spark

00:25

Clean Gtr U87

00:25

Clean Gtr + filter Blue Spark

00:22

Clean Gtr + filter U87

00:22

Dist Gtr Blue Spark

00:32

Dist Gtr U87

00:32

Drums Blue Spark

00:19

Drums U87

00:19

Voix Blue Spark

00:29

Voix U87

00:29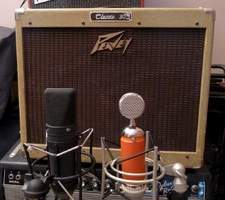 To be honest, the results are very impressive. Basically, the Spark does a really good job, offering a faithful and pleasant sound reproduction without an exaggerated "frequency enhancement." You'll hear some light boosts at 1 kHz and between 8 kHz and 12 kHz, as well as some attenuation between 200 Hz and 400 Hz, but nothing too excessive. From a technical point of view, we adjusted our preamps (Amek DMCL) so that the recorded levels allow for an "objective" monitoring. In general, we didn't use very different settings because the output level of the Spark is very close to the U87, which means that it is quite high and you can use it with any preamp.
As for dynamics, the Spark has a good transient response providing a clear tone, not aggressive at all. It's obvious that the two mics don't react the same way to details (the Neumann has a precise low-end, different low-mids, and a slightly less "sparkling" high-end), but then again, my intention is not to compare two incomparable mics. Whatever the application, the Spark provides a more than satisfying sound quality, making this mic much more versatile than it seems.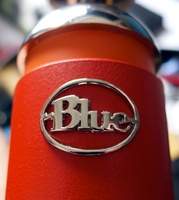 We did miss a pad button for very loud sound sources, like a bass drum for example. However that's not the main application of this mic, and don't forget the price… The shock mount didn't really convince me; it does its job but it's not very practical. A more simple and less bulky shock mount would be welcome… But once again, considering the price, what can you reproach this mic?
Almost nothing. The sound is really nice, the technical performance is more than satisfying, the construction is rugged, the design is original (and typical for the brand), and the packaging is on the same level as high-end microphones… and all that for less than $200! Honestly, Blue has pulled off a great microphone with unbeatable value for money and I bet that this Spark will fire up many future recordings!
Conclusion
It's always a surprise to see a high-class brand attack a low-budget market segment, but we can affirm that Blue didn't rest on its laurels to conceive the Spark. This all-around microphone feels at home in the studio and can capture almost any sound source without a sweat. It certainly can't compete with its famous big brothers but it offers a rarely reached performance and high-quality manufacturing at a very affordable price. An excellent new product and certainly a new standard for all home-studio owners.
A big thank you to Red Led for his legendary guitar playing, as well as to Marc and the Mupson Studio.
Red Led appears courtesy of Alsace Sauerkraut Records ;-)