The DAW is the heart of modern home studios. A sequencer isn't something you should buy carelessly because it impacts the way you work – the whole process, from the idea to its realization. Here is a brief introduction to the 18 best sequencers on the market, in no particular order of course.
We also do not cover Linux-based software, for instance the excellent Ardour and Rosegarden, or the amazing Usine and the nice EnergyXT. Due to their more modular approach, they are not really comparable with the products listed below.
Finally, keep in mind that this selection is indicative and subjective. And since a sequencer is as personal as a toothbrush, it would be unreasonable for you to spend several hundreds dollars on a sequencer before trying it out first. Some manufacturers give you this possibility with trial versions, others don't... which is quite a pity. In the end, it makes it harder for the customer to feel confident: would you buy a house without visiting it or a pair of shoes without trying them on? Anyways, it's your call! ;-)
Price: €100 to €600
PC and Mac, 32 and 64 bits
Protection via Syncrosoft dongle
Price: €95 to €700, depending on the version you choose
PC only - 32 and 64 bits
Being a proud descendant of the venerable shareware Fruity Loop, FL Studio keeps a dedication to beat-making (for hip-hop and electronic music, even if you can use it for other genres as well). The handling is very original because of the step sequencer and the peculiar insert and FX send management system. The program also distinguishes itself by its very affordable price and nice sales strategy: if you buy the current version you have lifelong access to all future updates! Maybe that is the reason why the product enjoys an extremely active community, including many professional remix producers and electronic musicians. Nevertheless, a lot of people still think that FL Studio is just a big toy. The addition of special features for live applications since version 11 is a very good thing. However, in the standard versions, the software confuses quality with quantity when it comes to effects and instruments. And the downloadable full version, including all great plug-ins, is sold separately by Image-Line for "only" €700...
Price: free (with a new Mac) to €14
Mac - 32 and 64 bits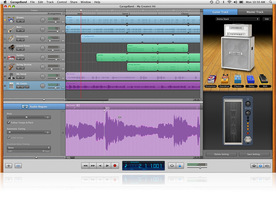 Inspired by Magix's Music Maker or Sonic Foundry/Sony's Acid, Apple launched Garageband — one of the most appealing sequencing tools for absolute beginners, under the condition that they own a Mac (the software is included in every new Mac). With its very clear interface, GarageBand is mainly based on audio and MIDI loops, so that you can achieve attractive results very easily. It is sold with many ready-to-use loops covering a wide range of sounds and styles. However, GarageBand is not limited to loop combinations: it also allows you to record and edit your own audio and MIDI parts. Browsing its menus you'll discover many other functions that open up a rainbow of possibilities: a quite comprehensive insert effects section for the individual channels and the master track, audio transposition and pitch correction, automation, Audio Unit support, etc. It only lacks some effects sends, which speaks very good for a mass-market sequencer. In short, it's an excellent choice for beginners... on a Mac... and on an iPhone/iPad (yes, Apple's tablets also include their own version of GarageBand, even though less comprehensive, but still interesting).
Price: €80 to €650, depending on the version you choose
Mac and PC - 32 and 64 bits
Price: €100 to €500
PC - 32 and 64 bits
Price: free to €370, depending on the version you choose
Mac and PC - 32 and 64 bits
Price: $46
Mac and PC - 32 and 64 bits